Houston Neighborhoods

Houston is made up of many different neighborhoods, each with their own rich history and culture. From Montrose to Downtown, the East End to Chinatown, there are many different places to explore. And only by doing so can you truly understand this remarkable city.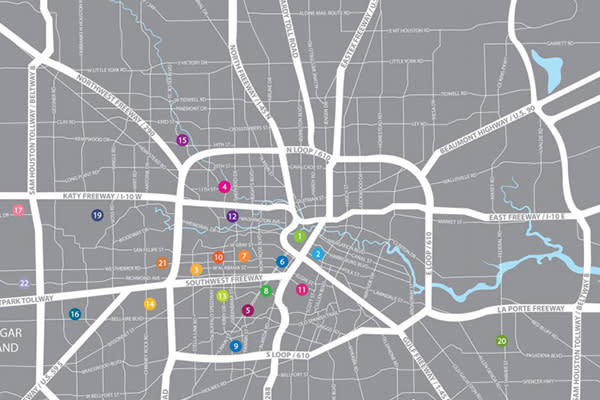 Click the map above for additional detail. 
Chinatown
Houston boasts a large and vibrant Asian community, with the second-largest Indochinese population in the United States (behind Los Angeles). The city's original Chinatown was actually just east of downtown, but as the community grew it moved with time to this area southwest of the Loop. Today, Chinese shops, restaurants, and cultural centers share blocks with Indian, Pakistani, and Middle Eastern markets. Dig into dim sum at Ocean Palace, savor crawfish or huge crabs at Crawfish & Noodles, or pick up fresh fish at the massive Hong Kong City Market. Read more...
Downtown
Houston's downtown has transformed in recent years from a purely commerce-focused CBD to a vibrant, live-work-play neighborhood. You'll find performing arts in the Theater District, a great mix of nightlife and plenty of activities at Discovery Green and Market Square Park. Read more...
East End
East Downtown, or EaDo, and the East End area beyond offers a diverse mix of restaurants, bars and nightclubs, and art galleries. Located just on the other side of US 59 from Downtown, this vibrant neighborhood continues to grow and attract new residents and business tenants. The Dynamo soccer stadium anchors additional parks, restaurants, and nightlife, including spots such as Nancy's Hustle, Ninfa's on Navigation and Tout Suite. Plus, newer segments of the MetroRail offer connectivity to the neighborhood. Read more...
Galleria/Uptown
Centered around the Galleria mall, the largest in Texas, this neighborhood along the West Loop is so much more these days. Restaurants include Caracol and The Tasting Room and you'll also find abundant shopping not only in the Galleria itself but also in the tony River Oaks District and along Post Oak. Read more...
The Heights
Northwest of Downtown sits a section of historic neighborhoods that date back to the late 1800s. The Heights was Houston's first "suburb" but today it's part of the heart of the city. Residents and visitors here are drawn to the rich and character-filled architecture, mom and pop-type shops and funky restaurants. Check out restaurants such as Harold's, Lee's Fried Chicken & Donuts and Coltivare. Read more...
Memorial City
Once centered around just Memorial City Mall, the Memorial City area has seen a boom unlike any other in the past decade. Now basically a city within a city, the Memorial City area along I-10 at Beltway 8 is a metropolis of mixed-use office space, retail, residential living and is home to the second largest medical campus in Houston. And with City Centre, a high-class plaza with shopping, dining and entertainment, now open, the options are endless. Read more...
Midtown
Between Downtown and the Museum District, the trendy Midtown neighborhood offers a range of restaurants and energetic nightlife options that bring young professionals to the area. You'll find eclectic brunch options at Gloria's and the Breakfast Klub and after the sun goes things kick into high gear with live music venues, dance clubs like Rich's and dive bars.
Montrose
Founded in 1911 by an eccentric oil tycoon, Montrose is Houston's famous "gayborhood", home to our rich and vibrant counterculture movement. Montrose housed an estimated 30-40 gay bars by the late 1970s, and even today stays true to its spirited roots. For those seeking a Houstonian adventure with a little more sparkle than most, Montrose provides plenty of exceptional options. Read more...
Museum District
Just southwest of downtown, in the pedestrian-friendly Museum District, more than 8.7 million visitors explore the 19 cultural institutions that make up the tree-lined, culture-filled neighborhood each year. Visit the crowd-favorite Houston Museum of Natural Science with its massive Paleontology Hall. See ancient and modern works of art at the Museum of Fine Arts Houston. And visit with thousands of animals at the Houston Zoo. Read more...
Rice Village
Sandwiched between Highway 59 and the 610 Loop, the quaint West University area is one of the most sought-after districts in the city. Home to Rice University and the pedestrian-friendly Rice Village shopping area, the neighborhood appeals to families and young professionals alike. Swing by the Village for fashion-forward finds at local and nationally-owned boutiques bites at one of the many restaurants and happy hour sips.
Bay Area
Just 25 minutes from downtown on the shores of Galveston Bay you'll discover the towns of Clear Lake, Kemah, and Seabrook. Known for great seafood restaurants, sailing, and other water activities, the Bay Area is often called the "Boating Capital of Texas." Visit the Kemah Boardwalk for amusement rides, shopping, and waterfront dining or spend a day at Space Center Houston to see NASA's Mission Control and learn what it's like to be an astronaut. Battleship Texas and the San Jacinto Monument where Texas won its independence are also close by.
Galveston
If you drive 50 miles south of downtown Houston, you'll come face to face with the ocean. Houstonians don't just love Galveston because it's our nearest beach—it also has a legendary background that inspires celebration. Stay at the historic Hotel Galvez, a beachfront property primed with swim-up bar and ocean views. Get your seafood fix at Gaido's, before hopping over to Robert's Lafitte for a drag show and karaoke. History buffs will enjoy historic tours of Bishop's Palace, while thrill-seekers can get their fix on roller coasters on Pleasure Pier. Read more...

Explore more Houston Neighborhoods here.