Picture Perfect: 6 Great Photo Spots in Houston
With the creation of selfie sticks, it's now easier than ever to take pictures everywhere you go. However, certain places add that extra blast of color and setting that turn a simple portrait into a picture to remember. Houston has no shortage of photo opportunities, and it's worth noting these six standout locations.
THE "WE LOVE HOUSTON" SIGN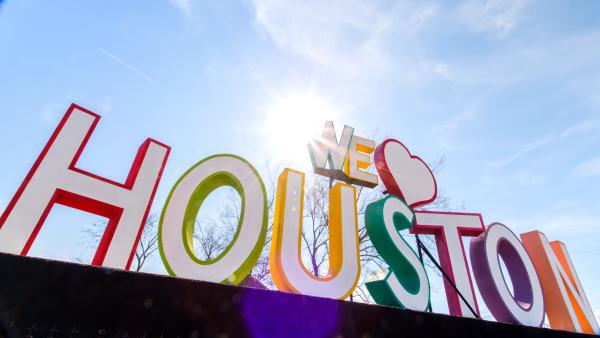 This sign declares its love for the city while standing an impressive 28-feet tall. It's a three-dimensional sculpture created by Houston artist David Adickes. Adickes' choice to use the word "We" instead of other cities' choice of "I" embodies Houston's inclusive mindset. Each letter is a rainbow color that captures the vibrancy and diversity of the city. The iconic image is emblazoned on Houston products, as well as featured in commercials and photographs. The sculpture was moved to 8th Wonder Brewery where it happily lives as a photo opportunity for Houstonians. You can approach the sign from Polk or Dallas Street and enjoy the murals around the area along the way.
MARKET SQUARE PARK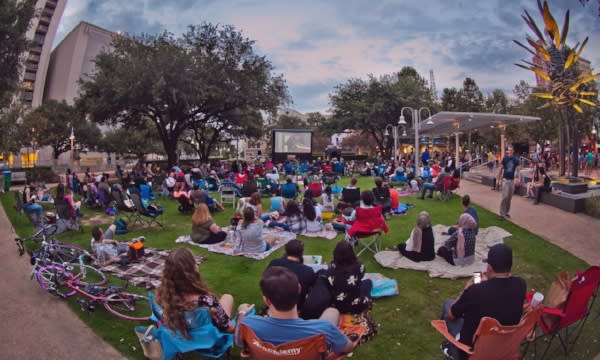 Market Square Park offers a cornucopia of picturesque nooks. The small, well-designed park has fountains, mosaics and sculptures. Across the street from the park on the side of Treebeards restaurant sits one of Houston's most colorful and most frequently photographed murals. The work by artist GONZO247 is a rainbow explosion of spray paint glory proclaiming, "Houston is Inspired."  
GERALD D. HINES WATERWALL PARK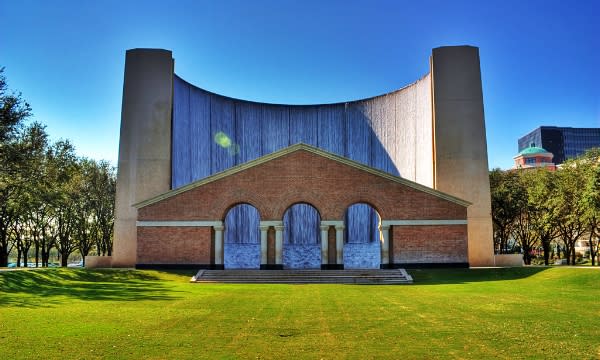 This monumental waterwall was designed by Johnson/Burgee Architects and makes for a perfect selfie backdrop. This dramatic architectural masterpiece roars as water cascades down its wall to create a scene fit for a photo shoot! The sculptural water feature stands 64 feet high and hugs the entrance in a semicircle. You can find these falls at The Gerald D. Hines Waterwall Park and it is active between the hours of 10 a.m. and 9 p.m. 
HERMANN PARK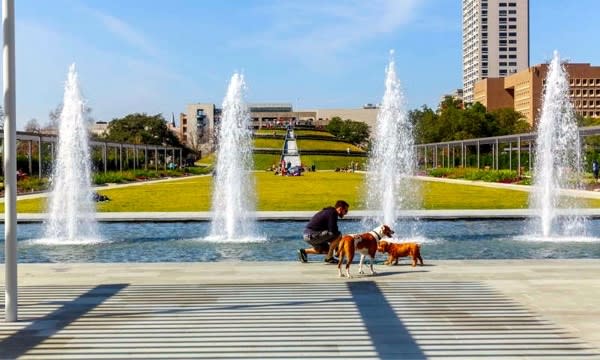 Hermann Park is one of Houston's most beloved stretches of land. With The Houston Zoo on one side and the Museum of Natural Science on the other, it contains miles of running trails, picnic tables, ponds and a reflection pool. Top-notch sculptures are sprinkled throughout the park and rotate regularly. If you're feeling really jovial, take a ride on the mini-train that drives around the park to get an action shot.
RICE UNIVERSITY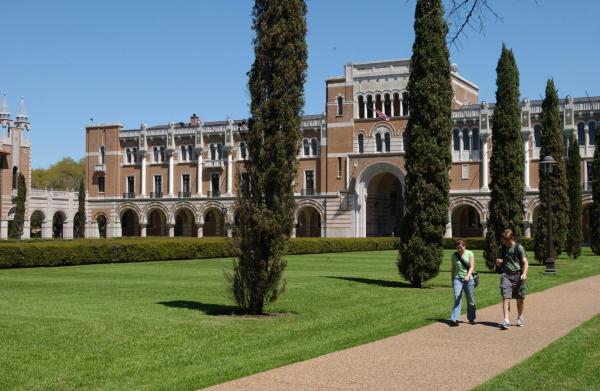 Few streets are as picturesque as the entrance to Rice University. Canopied by several varieties of old oak trees, Rice has earned the distinction of "Tree Campus USA" by the Arbor Day Foundation. Add an assemblage of buildings with unique and diverse architecture to the forest-like setting and the Rice campus encompasses myriad possibilities for memorable photos.
THE BISCUIT PAINT WALL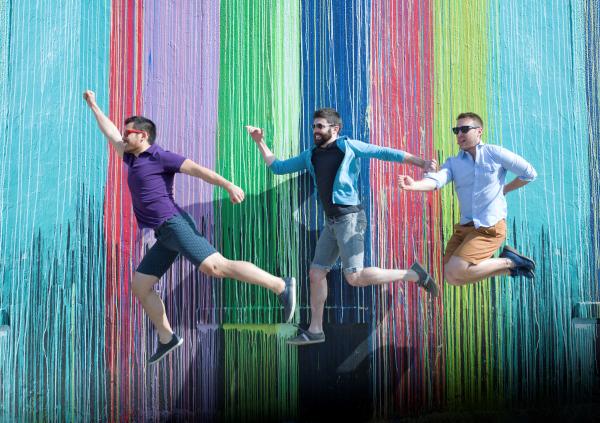 Affectionately known as The Montrose Paint Wall, the dripped paint mural on the side of Biscuit Paint at 1435 Westheimer is the perfect backdrop for a bright and bold portrait. Painted by Mr. D (Eyeful Art), the mural has become a regular stopping point for tourists and locals. An AIDS Healthcare Foundation thrift shop is on the other side of the mural that you can check out while you are there.
Whether you opt for a mural, nature or indoor backdrop, you'll find ample opportunity to take awesome photos all around Houston.