Spa-tacular: Gay-friendly spas to relax in Houston
When Netflix rebooted Queer Eye, every queer and allied heart rejoiced. We were simultaneously transported into an 80's montage of preparation, doing bicep curls with the remote and stretching our glutes to prepare for binge-sitting. What so many were not prepared for though, was a marathon of sobbing at the wholesome sincerity that faced us. Instead of snickering at schlubby dorks, we found ourselves rooting for the lovable underdogs. Unlike the former series angle of exclusively fixing up the clueless "straight guy," producers chose a closeted gay protagonist for "To Gay or Not Too Gay." Not only is this episode the #1 tearjerker of Season 1, it also bats stereotypes away like flies. Not every gay man is impeccably dressed or fashion-obsessed, homosexuality is not mutually exclusive with masculinity, and masculinity does not belong to men alone. Everyone deserves the tender self-care boost provided by professionals in salons and spas. The confidence increase is a plus, but on a deeper level, having another person tend to your hair, skin, or hands can be deeply therapeutic. Houston has its own lineup of LGBTQIA-friendly options to get your groom and bloom on, Jonathan Van Ness-style.
Studio 31 Hair Lab in Midtown is a hair haven cut out for The Fab Five with coloring, cut, style, and makeup services. Stylist Stacey Daniels was a 2017 finalist in OutSmart Magazine's Gayest and Greatest for best female hair stylist, and is known for being a color prodigy from subtle highlights and balayage to daring neons every color of the rainbow. Stacey's Brazilian blowouts come in high demand, so book ahead for a spot.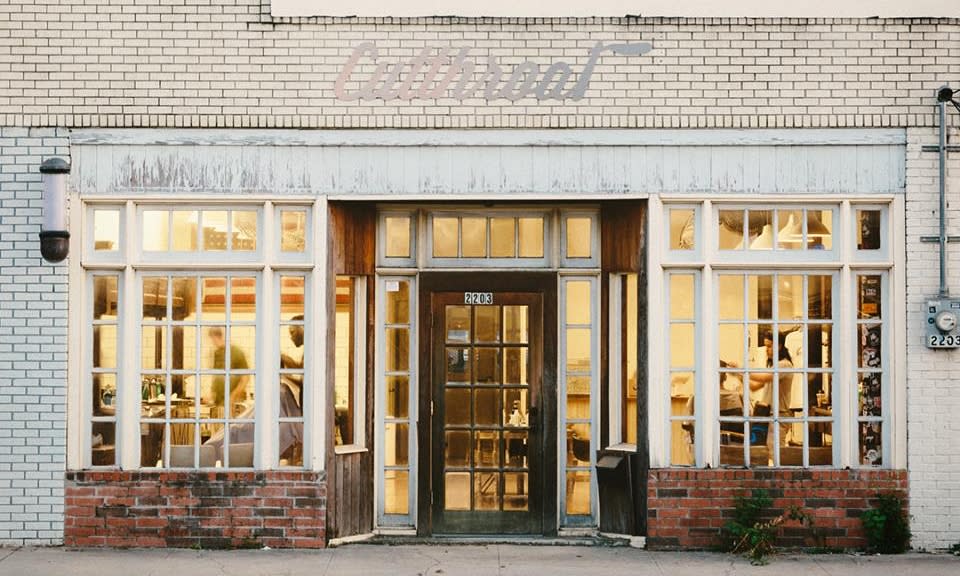 For old-fashioned short cuts and skilled grooming, queer-owned barbershop Cutthroat is so popular they keep two locations—one on historic 19th Street in The Heights and one on Washington Avenue in Washington Corridor. Specializing in dashing masculine cuts, sharp fades, shaves, and expertly styled longer-on-top looks, Cutthroat knows that dapper styling isn't solely reserved for men. Another standout Heights barbershop is Bird's Barbershop on East 20th Street. This quirky mid-century space offers affordable cuts with a free Shiner beer while you wait.
Because manicures look great on all hands across the gender spectrum, coordinate your favorite outfit with your nails, or just get a relaxing pedicure. Glow Spa & Nails in River Oaks has massage chairs to unwind in and complementary wine for a premium self-care day.
Winner of OutSmart Magazine's Best Day Spa in 2017, Alira Spa and Salon is a Montrose mainstay boutique for haircuts and styling, skin and facial services, and award-winning massages. Plan a romantic date with a couples massage or fly solo for their waxing services, eyelash extensions, and microblading.
For more advanced skincare, check out the cosmetic powerhouse, The Skin Renewal Center. This LGBT-owned, award-winning center specializes in the latest in cutting-edge skin care technology. Specialized services like laser treatments, microneedling, chemical peels, and microdermabrasion come highly recommended. The Skin Renewal Center also offers Botox and facial fillers, body contouring, liposuction, and minimally-invasive to completely non-invasive weight-loss solutions.