As a graduate of The Art Institute of Houston, Hugo Perez has made a career of depicting narratives of marginalized communities through imagery including painting, illustration, collage, and even sculpture. Drawing inspiration from his own family members, the figures in his work capture various states of action and movement, symbolizing several things all at once: the migration experience and navigating two cultures. His art has been acquired in Europe, the U.S., and Central America.
We sat down with him to delve into his creative process, his immersive installation Equality Panels, presented in July at the Proud, Present + Future event, the Houston queer art community, and why he seeks to celebrate and uplift new perspectives.
What originally got you into art? 
I was always a creative child with art being my favorite class. For my undergrad, I studied Graphic Design because I was really into fashion magazines and wanted to work in the publishing industry. My initial paintings were about getting familiar with the materials. As I got more confident in the work, I began to apply for group exhibitions in the city and that's how it all began.
Who, or what, are your biggest artist or thematic influences? 
There are several queer modernist painters from the early 20th century. The works of Marsden Hartley, Jared French, and Paul Cadmus informed how I present the figure. I've also been inspired by the figurative narratives depicted in ancient Greek vases, hieroglyphics, and pre-colonial artwork from the Americas.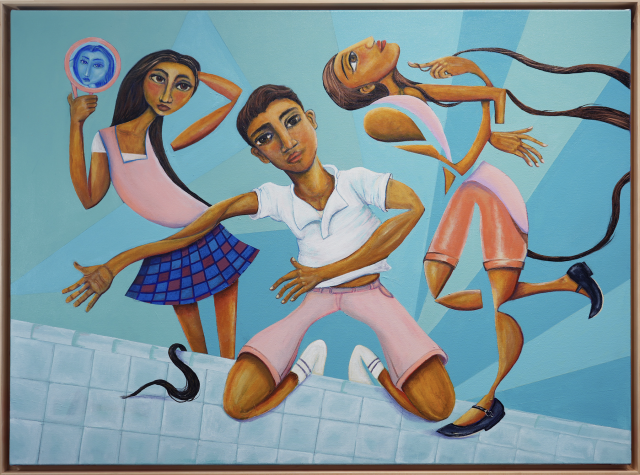 Hugo Perez, Counterspaces - Photo by Stephanie Beltran 
Explain your thought process going into Equality Panels for the recent event.
The original task was to create the experiential design of the space as well as a queer timeline that touched on key moments within queer/trans/black/indigenous queer history. When I visited the space intended for the event, I began brainstorming ideas on how best to present the stories in an accessible and approachable way. I knew I wanted to create something three-dimensional that you could essentially step into, so that is how the Equality Panels came to be.
Why was it important to include, not just art, a period of rest and wellness education? 
In May, the team at lululemon held a town hall meeting with several leaders within the queer community. We were asked what allyship looked like from an organization during Pride. We also discussed how the current political climate was affecting the mental health of many of us. Lululemon responded by creating an event that provided wellness and mental health programming. 
Does the LGBTQ+ art community have support when they want to present their work? If so, who supports them the most?
The Contemporary Arts Museum, Lawndale Art Center, Art League Houston, The Blaffer, Moody Center for the Arts, and Houston Center for Contemporary Craft have shown and supported the work of queer artists. There have also been queer curators and gallerists who have lived in Houston and supported queer work.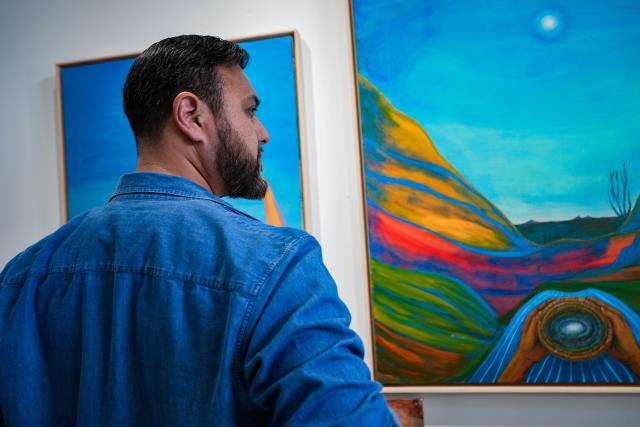 Where does the art community work and meet in Houston? Which galleries, if any, specifically make it their mission to exhibit queer art? 
I think art openings are a great place to see and run into people from all walks. Kevin Anderson with the T.R.U.T.H. Project is championing queer art. I was recently in a group show he curated at MATCH Houston. For a while, a group of queer artists and I exhibited queer-focused exhibitions under our collective titled Qollective.
How are queer artists integrated with the rest of the LGBT community in Houston? 
OutSmart magazine does a nice job covering queer artists and art shows. The theatre community is also something I want to mention. There are several queer actors performing in plays year-round. I really love that the new generation is so open, and I think that they are creating their own spaces that don't necessarily have labels.
Where can visitors go to see more of your art and what is next for you? 
I work out of my studio at Sawyer Yards, Sabine Studios. My space is open most days and you can visit by appointment. Just send an email to hugo@hugoperezart.com. I was recently selected to create a temporary sculpture at the Museum of Fine Arts through the organization ALMAAHH. Six artists in total were selected in preparation for the Museum's second Dream with Alebrijes fall festival. The event is to be held on Sunday, November 5, at the Cullen sculpture garden at MFAH.