Rich's has been a staple in Houston club scene since it was birthed in the early 1980s. The two-story, mega dance club became known as the "Studio 54 of the South," guaranteeing bumpin' beats, great drinks and a massive dancefloor that could fit hundreds. The lovechild of Jeff Harmon, he always had bigger plans for Rich's to be more versatile and he recently found a way to make his dream a reality.
"Back in 2016, I saw there was an aspect of the Houston LGBTQ+ bar scene that was missing, so I decided to elevate Rich's to be a more boutique lounge space," says Jeff.
The location at 202 Tuam, formally known as F Bar became available, so he decided to bring the once downtown location to the gayborhood and decided to call it ReBar. Soon ReBar was nixed and he brought back the iconic name of Rich's. Rich's was always siloed away from LGBTQ+ neighborhood so it was always viewed as more of a destination and not close enough for those looking to bar hop. And with all real estate, he knew it was all about "location, location, location."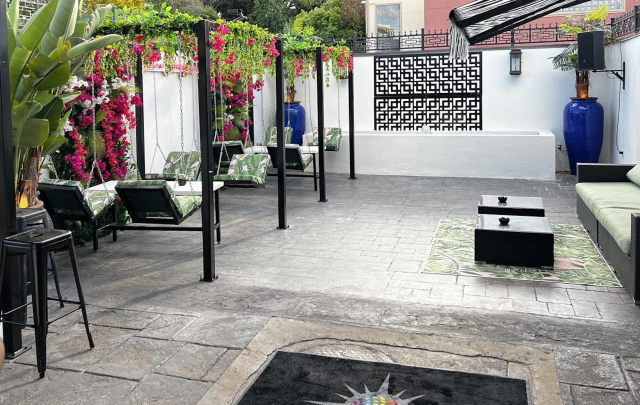 Photo: Courtesy RICH'S Houston
Not only did 202 Tuam get a facelift, both inside and out, Jeff wanted to elevate the bar experience and fill a niche environment that he felt was missing. Focusing on a more modern and floral aesthetic (reminiscent of Blanche Devereaux's boudoir), not only will the space look different with a smaller dancefloor and custom-made white lounge chairs, he is incorporating aspects that not many nightlife spaces have: gourmet food and a chill pool.
"I wanted this to be a place you can come during the day and get a meal, from 4 -10 p.m., but shareable plates to split with friends at night," said Jeff.
Jeff assures the food won't be entrees like frozen pizza, but the menu will consist of homemade recipes he has accumulated from family and friends. The pool, while not completed, he believes it will be a major hit for people dying to cool off on the humid Houston days.
In addition to those new amenities, Rich's will still offer high-octane events and entertainment like did before. Not only will the tradition of DJs spinning music you cannot hear anywhere else, here will be a drag shows and other all sorts of entertainers. Also, longtime friend and legendary Houston drag icon, Blackberri will be hosting weekly drag brunches.
"I want to assure everyone the new Rich's will just have a more boutique atmosphere with no pretensions and welcomes all Houstonians," says Jeff.
Rich's soft opening was on Friday, October 27, where all were invited to come drink, eat and be merry. Be sure to follow Rich's on Instagram and Facebook for news on upcoming events and updates on renovations.