It is "spooky" season, and you know what that means. It is time to bust out your most creative costume, grab your friends, and bar hop for the best drink specials. As always, most Houston LGBTQ+ bars are bringing out all the stops to scare everyone with a good time. And when it comes to costumes, if you want to win a contest, might we suggest not dressing as Ken or Barbie - there will be many of them!
If you can't go out on Halloween for some reason, you can still celebrate Houston Halloween at home. One of Houston's most popular drag queens, Blackberri, will compete on the fifth season of The Boulet Brothers' Dragula, a drag competition much like RuPaul's Drag Race but with a horror twist. Contestants compete in challenges called 'floor shows', where they not only make costumes but perform shocking and filthy acts. Root her on from home, and don't forget to check out her Instagram for upcoming shows in Houston. Dragula premieres Tuesday, Oct. 31, on AMC+ and Shudder, with new episodes released weekly.
Who is Blackberri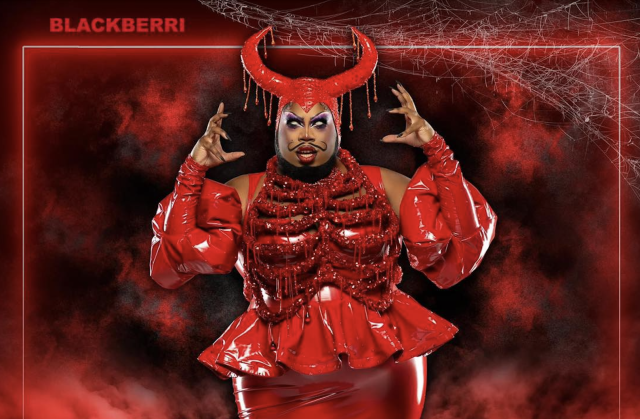 Blackberri is known as the "Bearded Beauty of Texas," and many consider her one of Houston's funniest and most famous drag performers. Her emcee prowess and performance abilities have earned her great respect and success in the Houston scene. She brings a revolving door of talents to the competition, including comedy, acting, performance, and makeup skills. Her costumes are also impressive!
The Bearded Beauty is recognized nationally for her appearance in Facebook's 2021 Super Bowl commercial. She is also featured in the Pride campaign for Yitty, Lizzo's shapewear line. Her rise to drag stardom was meteoric despite her humble beginnings.
Blackberri (née Darius Vallier) was born in Houston and raised in Louisiana. In 2010, she moved back to Houston to study fashion design at the Houston Art Institute. Blackberri confessed in several interviews that one of her friends was a drag queen at the time, and she would use her as a model for some of the pieces she created for college. "That got me into the drag world. I figured I could also throw my hat in the ring and start performing in drag."
Her performance career truly launched after competing and winning in 2016 on Dessie's Drag Race, a local 10-week in-person competition. Blackberri's star has been rising ever since. In addition to regular performances at ReBar, some of the most common venues Blackberri performs at include JR's Bar and Grill, The Room Bar in Spring, Michael's Outpost, and Hamburger Mary's downtown. She is a versatile performer, with shows ranging from comedy-themed and Broadway-themed to more alternative and straight-up drag performances. Her goal? "To make people laugh!" However, this Halloween, it will be different!
In Dragula season 5, Blackberri will face multiple challenges competing with ten drag entertainers from around the world, including Argentina, China, UK, and USA. Ferocious drag ghouls are ready for the battle! Let's wish our Blackberri good luck!
Photo: Courtesy The Boulet Brothers