Summer is perfect for spending some hours at a gallery or museum and getting inspired by art. If you and your partner are art lovers, Hot House is for you. This exhibition, running through September 9 at the Houston Center for Contemporary Craft (HCCC), features contemporary lace creations and larger-than-life electroluminescent installations by the Brooklyn-based fiber artist Layla Klinger.
Born in Tel Aviv, Klinger (they/them) works with fiber, light and electric currents to investigate intimacy, erotic compulsions, and beauty as merit. Using electroluminescent wire and playing with code, Klinger creates large-scale, light-emitting, bobbin lace installations, which generate incredible variations in light patterns. The works are displayed in dark rooms, and Klinger says the holes in the lace become defined not by the physical reality of the wires but by the light.
This exhibition, curated by HCCC Curatorial Fellow, Cydney Pickens, marks Klinger's first major solo exhibition in the United States and includes small, handmade bobbins for lace making, as well as their vibrant, interactive light installations.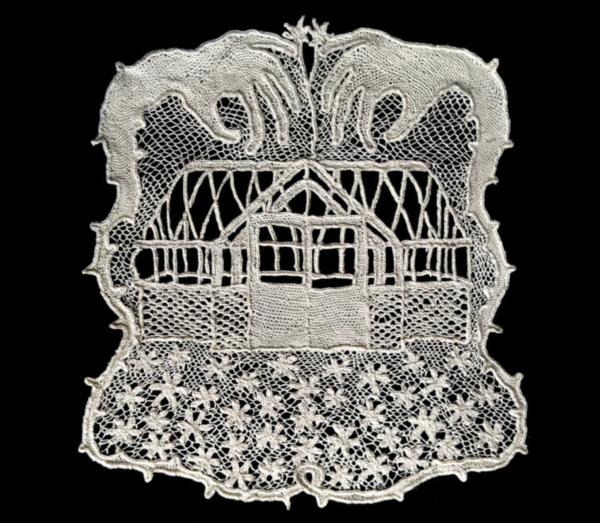 Layla Klinger, "Krysia," 2023. Undyed peace silk. 7×6.5 inches. Photo by the artist.
Klinger took up crocheting at 19 and ever since has dedicated their life to working with textiles and fibers. Their work and approach are rooted in queerness, both conceptually and as a practical guideline to making. Klinger's artistic practice focuses on conserving traditional lace-making through new materials and queer narratives, creating erotic tension, and employing seduction as a strategy for craft conservation.
Klinger is a graduate of Parsons School of Design and the Textile Design department of Shenkar College of Engineering, Design and Art, specializing in knit. They spent a semester studying at The Swedish School of Textiles in Borås, Sweden, and they were an intern in a bespoke embroidery studio in London. They have exhibited their work in shows and festivals in New York, Los Angeles, Berlin, and Tel Aviv. Klinger is currently living in New York, teaching textile and fashion studio practices at Parsons School of Design.

HCCC : 4848 Main St., Houston, TX 77002
Open Tuesday-Saturday, 10 a.m.-5 p.m.
FREE ADMISSION
Take note: The front entrance to the building is currently closed. Visitors must enter through the back entrance, adjacent to the free parking lot.