Marcus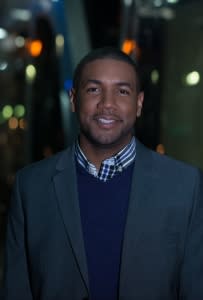 Birthplace: I was born and raised in Spring, TX.

Occupation: International logistics for an oilfield servicing company.

Tex-Mex or BBQ? Although I do love BBQ (I could eat a loaded potato from Goode Co. any day), I have to go with Tex-Mex because there is only one place to get quality Tex-Mex food: Texas. Trust me, I know from experience.

Favorite annual event? The Houston Livestock Show and Rodeo is something I, along with thousands of other Houstonians, look forward to every year. Although the plethora of high-calorie food options, carnival rides, and concerts are world-renowned, the air of excitement and energy that envelopes the city is incomparable.

What's your favorite LGBT event? I would have to say Houston Pride is my favorite LGBT event. It was the first Pride event I ever attended, and it will always have a special place in my heart. I've brought my father to Houston Pride twice, and those are moments I will cherish for the rest of my life. Also, the fact that the parade is at night makes it unique compared to most other Pride events.

Houston in one word is: Diversity. Houston is the most ethnically diverse city in the country, and this is clearly evident through the many festivals, events, restaurants, etc. that exist here. There is never a shortage of things to do and see. Once you find your niche, it is easy for anyone to feel at ease and call Houston "home".

What's a Houston must-see? Buffalo Bayou Park. This has become the premier space for the outdoorsy type, and it is only getting better. With all of the improvements and additions being made, Buffalo Bayou Park has become a green haven in the middle of this bustling city. You can go for a jog, have a picnic with friends, catch a glimpse of one of the best views of the downtown skyline, or attend one of the many events that take place there, such as Free Press Summer Fest.

What makes Houston unique as a city in your opinion? Something that makes Houston unique is the fact that there is so much beneath the surface. From the outside looking in, people tend to only see a concrete jungle that is run by the oil and gas industry with nothing but traffic congestion, but that is far from the truth. The music, restaurant and art scenes are nothing to scoff at, the shopping is on par with every other major city in the country, and there are neighborhoods in the city to fit any personality. There is something for people of all interests and lifestyles.

A Houston must-have? Air conditioning. As we all know, a mild winter can quickly turn into a blistering, humid summer, and that can be quite an abrasive transition. Whether in your home or your car, it is important to have a way to cool off.

What's on your Houston bucket-list that you haven't done yet? I still have yet to dine at the Spindletop Restaurant atop the Hyatt Regency downtown. My parents used to go there when they first moved to the Houston area in the 70s. This has been a part of the skyline as far back as I can remember, and after seeing it from the car window so many times, it's about time I made it up there too.

What would you say is Houston's best hidden gem?  The Orange Show Monument is something you really have to see in person to appreciate. Hidden south of Downtown, The Orange Show is an intriguing folk-art installation, museum, and event space rolled into one. It's something that you never would expect to see here, and reminds me that Houston has so much to offer, even if you have to dig a little to find it.

Houstonian you admire most? I know I'm not alone in this, but I most admire Beyoncé. Of course, I'm a fan of her music and she has become of the biggest celebrities in the world, but I also love the fact that she has never lost sight of where she came from. Regardless of whether she is living in New York or LA, Houston will always be her home.

Favorite place to grab a bite? Brasil. This has been one of my go-to cafes in Houston for years. A quaint restaurant at the corner of Westheimer and Dunlavy, this is a great place to either meet some friends for a casual dinner or grab a table for yourself to work, study or read. I highly recommend one of their daily quiche options or the triple apple bacon pizza.

Best brunch in town? Sunday Jazz Brunch at Brennan's has to be my favorite brunch experience in Houston. In my opinion, this restaurant is a city staple. It doesn't get much better than the top notch service, the fantastic Creole cuisine and the gorgeous sounds of a jazz group serenading you.

Favorite Happy Hour? It's almost always happy hour at Aka Sushi House. Discounted prices on wine, sake, and beer are great for my wallet, but what really makes this restaurant stand out is the extensive list of happy hour food options. From small plates to appetizers to sushi rolls, you can easily get your fill and not break the bank.

Favorite museum or attraction? Houston is host to a thriving museum scene, and my favorite art museum is The Menil Collection. The exhibits, along with an adjacent park and restaurant, are a must see for any visitor to the city. In addition to the museum itself, the University of St. Thomas campus, Rothko Chapel, Cy Twombly Gallery, and Dan Flavin installation at Richmond Hall are all close by.