Emma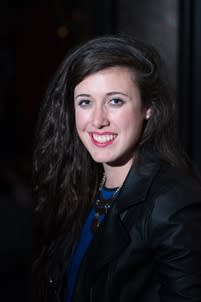 Birthplace: Knoxville, Tenn.

Occupation: Human capital consultant.

Tex-Mex or BBQ? Tex-Mex!

Favorite annual event? Rice University's Beer Bike - it is like Christmas for adults!

What's your favorite LGBT event? Houston's Gay Pride Parade!

Houston in one word is: Authentic.

What's a Houston must-see? David Adickes' president statues.

What makes Houston unique as a city in your opinion? The lack of zoning restrictions coupled with Houston's diverse population makes for a treasure hunt in terms of constantly discovering new neighborhoods, restaurants and cultural events throughout the city. Houston never disappoints; you just have to go searching for the gems.

A Houston must-have? Vietnamese food.

What's on your Houston bucket-list that you haven't done yet? Drive the entire 610 loop while listening to only Beyonce.

What would you say is Houston's best hidden gem? The original breakfast taco restaurants on Navigation and Canal in EaDo. I'm excited to see this area slowly gaining more attention from a few establishments moving in and revitalizing Houstonians to explore the area. Those breakfast tacos are mind-blowing.

Houstonian you admire most? Annise Parker. She has led humbly and confidently and made a tremendous impact on the city as our mayor. Plus, I always love a fellow Owl.

Favorite place to grab a bite? Uchi.

Best brunch in town? I always have and always will be most obsessed with Baby Barnaby's.

Favorite Happy Hour? Tie between Boheme and Uchi. Boheme's atmosphere and those Vietnamese fries get me every time but who can possibly deny Uchi's happy hour menu. The best.

Favorite museum, space or attraction? The Menil lawn; it's truly a Houston watering hole - all types of people gathering to rest and enjoy Houston's gorgeous weather. From families picnicking to drum circles to aerial yoga artists, you are bound to find everyone there.