John Ross Palmer is The Hardest Working Man in the Art Business. No, really, that's the name of a documentary about him that can be found on YouTube. But taking into account his thriving gallery, John Palmer Fine Art Gallery, mentorship program Art Launch, charitable work and much more, it is a well-deserving title. 
This born and raised Houstonian now proudly owns a three-building studio/gallery off historic Heights Boulevard where he hosts and sells his art, as well as give opportunities to new artists. Luckily, he was able to carve out some time to let us know what he thinks is so special about the Bayou City.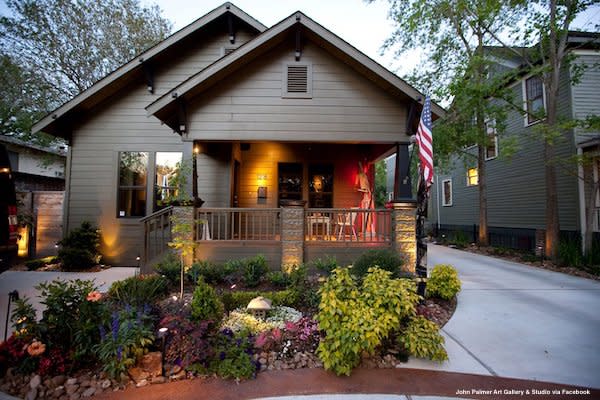 How did you get started in Houston's art scene?
I started showing my paintings at JR's and when I was dancing there. I became a bartender and was able to start talking to customers and it began a great way to sell my art as well. I have such a deep gratitude to Charles Armstrong (owner of JR's) for everything he has done for me and for the community. 
Where do you like to go out to eat or hang out in Houston?
I don't really go out too much because we are always haven't events at the gallery but I love this coffee place EQ Heights by me and Eight Row Flint as well. One of my favorite places to go that I've done a lot of art for and it's a Houston institution, is Tony's. My husband and I are going for Valentine's Day. 

Tony's 
What are your favorite LGBTQ spots?
I used to go to JR's a lot; it has so much history. Love going to South Beach for big events. 
What is your favorite thing about Houston?
There is so much to do, so much inclusion and diverse cultures and people. Especially when it comes to food. We have everything here and so many options. It's the coolest thing about Houston. 

The Menil Collection
What advice would you give a first-time visitor?
Do not miss The Menil Collection, going to Discovery Green, those two things are absolutes. If you're gay, go to JR's because it has been there forever. Also, we have such a wonderful Zoo so stay at Hotel ZaZa and just walk to the Zoo when the weather is nice. And of course, come see my art at John Palmer Fine Art Gallery! We love entertaining and it is always a good time.