Queer comedian Chris Fleming has a joke in a video about how he already knew someone was polyamorous because they "kept going on about how welcoming the burlesque community has been." His video achieved a viral cult status, but that particular line resonated with many queer and polyamorous people because there's a real truth to it. The Houston burlesque community is a haven of glittery inclusiveness for everyone under the rainbow. The stages of Bayou City are graced by all different body types and sexual orientations, all across the gender spectrum. Houston's own pink-haired burlesque icon, Honey Moonpie, is one such shining example. 
Ms. Moonpie's first brush with burlesque was watching Houston's Gendermyn, a drag king group, at Numbers. "It was raw, full of energy, and all the performers were so nice and welcoming. This was also around the time that I was accepting my own sexual identity. So for me, LGBTQ identity has always been strongly tied to burlesque." She adds, "Burlesque is a way of expressing yourself. It's a space to freely playing with things like sexuality and gender expression. I think you may feel more out of place at a burlesque show if you aren't at least a little bit queer!"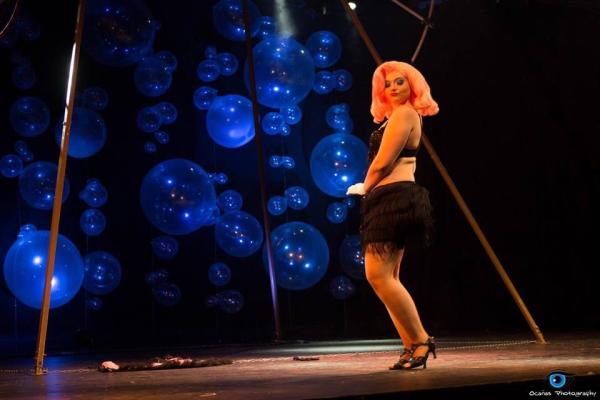 When revealing her burlesque origin story, Honey is refreshingly frank about her mental health journey. "I'm pretty upfront about the fact I suffer from anxiety and panic attacks. Once I started getting it under control, I really wanted to find something to get out of my box and build self confidence. What better way than taking your clothes off in front of hundreds of people, right?" Fans of her now legendary Pokemon act (no spoilers - you must see it for yourself!) would certainly agree.
Honey's performances often toe the line between campy and classy--she's like a Vaudevillian glamorpuss who collects Yu-Gi-Oh cards and always beats you at Mario Kart. Nerdy pop culture references abound as she vamps about in her signature pink wig. "Dita has her beauty mark, Anna Wintour has her bob, and I look like I shoved my head into a cotton candy machine before I walked onstage. So many people don't recognize me without my pink helmet of hair!" To hear her describe it, "My burlesque style is like the love child of Gypsy Rose Lee and Divine." She also cites hometown favorites Kiki Maroon, Miss Yet, and bearded drag icon, Blackberri as influences. 
When asked what she's most excited about creatively, she doesn't hesitate. "Kiki Maroon's  Burly Q Lounge at Warehouse Live!" As co-host and stage manager of the smash-hit monthly variety and burlesque show, Honey raves about Kiki's talent and drive, and calls the show itself her "glittery baby." The recurring theme of inclusiveness and supportiveness found in burlesque is infectious and hard to ignore. These performers aren't just coworkers, they are genuine fans of each other and great friends. To catch more of these sparkly and contagious positive vibes, see Honey Moonpie at the next Burly Q Lounge show on August 25th. Tickets are available at BurlyQLounge.com.