When Steve Grand released his hit All American Boy in 2013, the song and the accompanying music video went viral. Not so much because of the country sound or Grand's movie star good looks. Certainly the theme of unrequited love wasn't new either. Rather it was the combination of classic Americana imagery and emotions told through the lens of a gay love story.

The song rocketed to the top of the charts and made Grand an overnight sensation among gay and straight fans alike. At a time when most artists cannot get their voices heard without a label or a serious manager,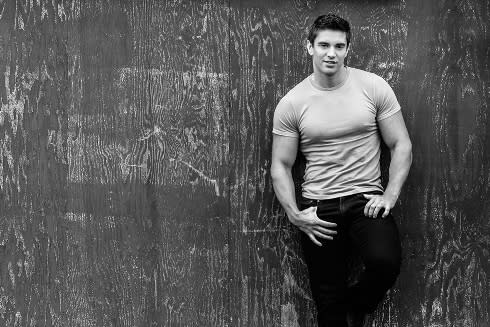 singer-songwriter Grand self-produced and financed the piece and made a name for himself as a serious player in the music scene almost overnight.

Earlier this year, Grand released his album, also titled All American Boy, and it quickly climbed to the No. 3 spot on the Billboard Independent chart. Piano and guitar-driven tracks such as Say You Love Me and Whiskey Crime offer a timeless sound, one that's instantly familiar to fans of artists like Bruce Springsteen or Tom Petty.

The weekend of October 2, Grand will come to Houston to perform live as part of the Diana Foundation's Country Dinner Weekend. Recognized as the oldest continuously active gay organization in the United States, the Dianas were founded in 1953 with the mission of raising and distributing funds to organizations serving the gay community. Three days of events are planned, including the headline country dinner on October 3 at Neon Boots, where Grand will perform.

As he prepares for his trip to H-Town, we spoke with Grand by phone from his home near Chicago.

mygayhouston.com: People have called you an overnight sensation. But you've been working at this for a while. How do you take that?
Steve Grand: You know, I've been playing piano since I was six. At 13 I decided I wanted to write music. Before All American Boy, I was working on music, recording it in my basement. I didn't have a label or anything; I would do gigs at bars on the weekends. I think what people are referring to is that I definitely achieved a level of popularity very quickly with All American Boy, unlike others who don't get that kind of reception from a debut. But I was putting in the work for many years before that.

You've been asked a lot about being a gay country singer and how you're received in those circles. But you don't necessarily see yourself that way do you?
I was very surprised that people were calling me a country artist. I didn't see myself that way then and I still don't. I can see where they would get that from, because I do use a lot of the devices of country music in some of my work. But from the start, every interview I've done I've talked about not really seeing myself as a country artist. If my fans see me that way, that's fine. The label is not that important to me. All American Boy is certainly the most country sounding song I've done.

Let's talk about that song and the music video. By all accounts it went viral when you put it out there, and there's a reason for that.
Sure. The song, regardless of what genre you call it, still makes a very compelling message. The sonic elements are very traditional, plus you have the Americana visuals in the video-the campfire, country roads, the flag. To have that setting established that people are familiar with and then bring in a same-sex love story-that's what made it compelling.

You're a singer-songwriter. How do you think that sets you apart from other artists and do you see yourself more as a writer or a performer?
I see myself first and foremost as a writer, I write a lot of music. But I also think I'm a strong performer. I think I come across on stage far stronger, more confident. That's one of the reasons I love performing so much, I become an extension of myself that's better than my real self. It's only 1% of what I do, but during and after a show, you realize how lucky you are and it's so worth it.

As an artist, do you think it's easier now than it once was not to put yourself in one genre-a country artist or a pop artist for instance?
I don't know, I don't have a whole lot to compare it to! But maybe now with social media it is easier for artists to explain their choices. I've been saying it in every interview that I'm just putting out my sound. I'm just grateful that people want to interview me at all. You see a lot of stars who get annoyed by the silliest things. They're so lucky to get to do what they love. I try not to take that for granted.

There's really nothing like the connection that a singer songwriter can have with his audience. It's truly unique and unlike any other human connection. You're hearing words from the mouth of the person who wrote them, there's no middle man. These words came from a place inside me and I'm singing that directly to you. That's powerful.

Who influences you as an artist?
I was raised on the Beatles, Led Zeppelin, the Rolling Stones. It's interesting because my parents were old-fashioned and traditional and wouldn't let us listen to pop music, but they let us listen to the Stones. Those groups definitely contributed to my music education and my sound, so I appreciate that.

And who influences you as a gay man?
One of the longest standing influences for me is Ellen (DeGeneres). I realize I have a limited perspective but for me she was one of the first people who came out and yet was able to gain an appeal with Middle America. Not a lot of people had done that before. I give her the credit for changing the hearts and minds of millions of mothers and middle aged women, who weren't really exposed to gay people in their everyday lives before. Here's this incredibly charismatic, compassionate sweet woman connecting with them every day. And it becomes impossible to say she shouldn't have the same rights as me. She doesn't make being gay a shtick, but she is authentic. For me, I try to always be myself-not necessarily try to push who I am on anyone but also not soften or alter who I am either. What they see is what they get.

A lot of times the LGBT community likes to put people in boxes or say they have to speak for the community when they come out. How have you handled that?
I just remind people, that it's incredible that we're seeing this tremendous diversity of our community being represented more than ever-all religious backgrounds, all socioeconomic statuses, all different kinds of families from all around the world,. There's no one kind of gay person, we're not going to all agree on everything but that's a sign of progress.

You could have been an out artist without addressing your sexuality in your music or in the video. Why did you?
I do believe that we live in a time when people like us are accepted and therefore who we are should be able to be addressed in our art. I don't see why a straight person can't connect to my music just because of the pronouns I use in a song. Unrequited love is an experience that we all share in common. It may limit my audience, but if that's the case so be it.

Have you played in Houston before?
No, there's a funny story there. I was in Austin, and it was right after All American Boy came out. So I'm on stage and my head is spinning. I'm singing a song where I was able to incorporate the name of the city, which is a great way to connect with the audience and gain credibility. But I blurted out "hey Houston." I must have said it several times, so finally my manager ran out on stage and had to tell me "you're in Austin!" So I'm actually excited to finally get to play Houston-now that we have such a history!

What are you excited about in playing here?
I love playing in the South. I draw on it for my songs and I connect with it. Playing live just brings me to live and makes me a better version of myself. I'm just a person with my own insecurities like everyone else and most of my life I've felt misunderstood, but being on stage is just the best medicine there is. I wouldn't give that up for anything.

For more information on the Diana's Country Dinner or to get tickets visit their website.