The combination of talent with these artists transmit colorful waves throughout the LGBTQ and LatinX community and it resonates in the veins of the Houston art, music, and the film industry. Their contribution to our culture has a deep impact that sends shockwaves of inspiration that should be highly regarded and with proper introduction, so let us take a closer look at these creative individuals. 
GRRRL Parts | DJ  & Promoter
Instagram: @grrrl_parts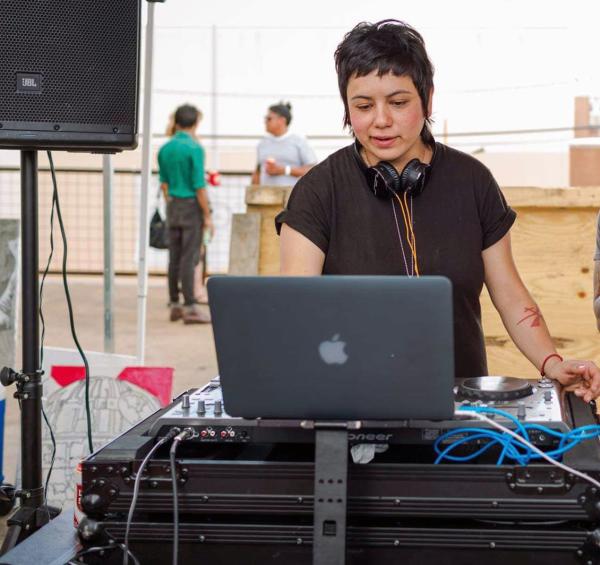 Photo by: GRRRL Parts 
If you have frequented the party scene in Montrose in the past decade, then you have surely attended one of Gabriela Ardon's dance parties, better known as GRRRL Parts DJ. Gabriela was born in Guatemala City and made her way to Houston with her family during her teens. She quickly immersed herself into the underground party scene and became a staple with her residencies throughout Montrose and Downtown. GRRRL Parts DJ (founder of Dance Mofo, Dance) is an award-winning musician, landing a handful of "Best Club & Female DJ" by Houston Press. GRRRL Parts DJ is also honored to have been able to share the decks with renowned DJs such as DeadMau5, Benny Benassi, Dillon Francis, Steve Aoki, and many many more! She is proud to be able to provide awesome beats that span from electric disco to 80s & 90s and hip hop for the sole purpose of jamming out dancing and having a good time. You can catch GRRRL Parts DJ at her weekly gigs at Present Company, Barbarella, Axelrad, and Etro Nightclub. Make sure to book her for your upcoming events!
---
Alex Ramos | Multidisciplinary Artist
Instagram: @alexramos8485

Photo by: Daniel Ortiz
Alex Ramos, (they/them)Co-owner of Input-Output Creative Media Lab, is a self-thought multidisciplinary artist who draws inspiration from their surroundings to create new experiences to share with others. Whether it is serving as a Sergeant in the Marine Corps or teaching computer science to middle school kids, they find a way to integrate art into the narrative. Their passion for knowledge and endless curiosity has allowed Alex to explore many mediums of creation. Artistic expression is their main language of communication, giving birth to an eclectic body of work. Alex's work ranges from murals that can be seen around the city of Houston, to intricate Assemblage altars made of found objects which have been exhibited in various galleries and art shows. The convergence of these interests has given them the unique ability to create unimaginable immersive worlds for all to enjoy. 
---
Adam Castaneda | Modern Dancer
Instagram: @adamluis_houston

Photo by: Lynn Lane 
Adam Castaneda is the Executive and Artistic Director of the Pilot Dance Project. Adam took over the role after serving as Development/Marketing Associate and Venue Manager. After the organization's last remaining founder left the organization in 2016, he assumed the role of Artistic Director. Mr. Castaneda re-branded the company into the Pilot Dance Project, with a focus on producing evening-length work by independent choreographers. In curatorial practice, he produces work by artists who are interested in exploring themes of community, identity, and the interpersonal relationships that create the foundation of the human experience. His programming has been funded by the City of Houston through the Houston Arts Alliance, Houston Endowment, Texas Commission on the Arts, and the Morales Foundation.
 
---
Stephanie Saint Sanchez | Media Artist 
Instagram: @stephfsaint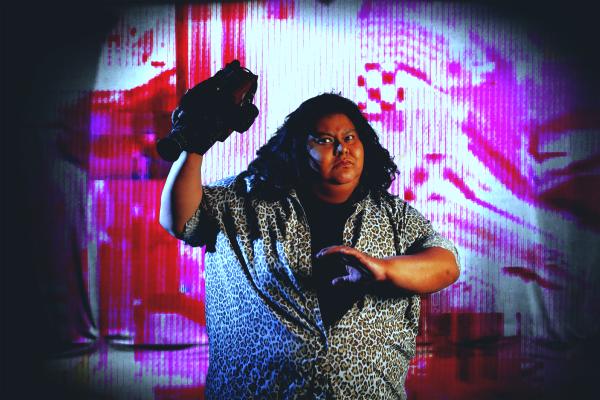 Photo by: Queer Bitz
Media artist and filmmaker, Stephanie Saint Sanchez grew up during the MTV era during the 80s in Beaumont, TX, and then corrupted in Houston. When she received her first video camera at age 13, she was off running and creating video stories and mini-epics using recruited friends, family, and innocent strangers as actors and subjects. Over the last 17 years, she has written, produced, and directed more than 30 award-winning, genre-splitting short films from Death Penalty Paper Dolls to coming-of-age feminist fun with Frida Kahlo and Pals.  Other endeavors include art cars, multimedia installations, and the occasional spinning of vinyl records as DJ ESteff. Stephanie is also a member of the Houston art collective called LOCAS, and the founder of Señorita Cinema, the longest-running all-Latina film festival which has been funded by The Warhol Foundation through the Idea Fund. Senorita Cinema is now accepting submissions and is set to launch on September 9th-11th 2022!