Every now and then it is important for couples to take a night off and rekindle their romance with a fun and romantic night in Houston. Whether you are just visiting or indulging in a romantic "staycation," there is always something going on in the city for all the love birds out there. Cuisine reigns supreme in the Bayou City and what better way to enjoy at night out at one of Houston's most romantic restaurants? Rainbow Lodge, easily considered one the best date spots for lovers, is a cozy spot for two. Situated off the bayou, Rainbow Lodge is a quaint cable-like restaurant with a diverse menu. And no visit to Houston we be filled without a visit to Brennan's. Since 1967, Brennan's has been a historical staple in the city with a romantic atmosphere and delicious Creole cuisine. We recommend at least trying the turtle soup, it may sound weird, but we guarantee you will be asking for seconds.
If the weather is enjoyable, Houston has many places to relax outside and enjoy a cocktail. Places like Axelrad Beer Garden, Boheme Cafe & Bar and Eight Row Flint are all relaxing and reasonably priced with food and expansive patios. If you'd rather be enjoying the AC, the innovative Anvil Bar & Refuge, and romantic 13 Celsius – a popular wine bar for first dates – are quiet bars to spend the night with your better half. 
If your beau is a brewery buff, take them for a tour and night out at one of the many Houston breweries. From brands like Saint Arnold Brewing Company, Karbach Brewing Co., 8th Wonder Brewery, and Buffalo Bayou Brewery Co. location, with large outdoor space and stunning views of downtown, it's always a fun time at these breweries.
When it comes time to wind down, we know just the place. Hotel Zaza in the Museum District and Memorial offer a pampered experience with a full spa, luxurious rooms, and pools to cool down from the Houston heat. But for a more historical vibe, the La Colombe d'Or is a swell choice. Not only has the hotel been updated, but it retains the artistic aesthetic that made it so popular with around 425 pieces of art and a sculpture garden.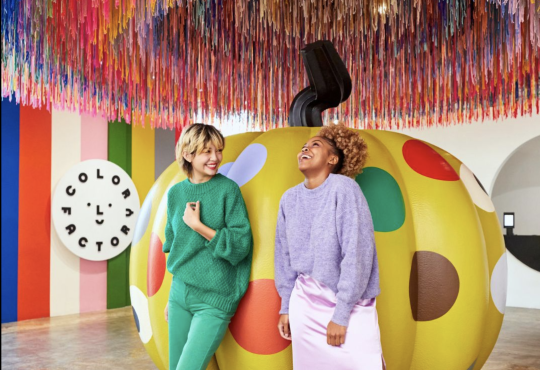 Photo: Courtesy The Color Factory
When it comes to unique dates, Houston has tons of museums to explore but none compare to The Color Factory. The whimsical, immerse experience is not just a fun time, but an Instagram-worthy date with photos you can hold onto forever. And be sure to check out the Theater District for plays, musicals, operas and more that will surely make your night one to remember.