The Houston Museum District is certainly one of the most visited places in the city. Each day, thousands of people go through at least one of the 18 museums and cultural institutions that comprise the walkable district. But unlike other local neighborhoods that have restaurants on almost every corner, the options for dining inside the Museum District are few.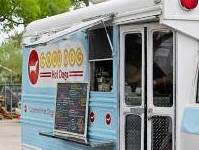 Houston's food truck scene is expanding


A new program from the Museum of Fine Arts, Houston aims to change that. Starting this week, MFAH is working with local food trucks to bring new flavor to the district. Each day from 11 a.m. to 3 p.m. at least one food truck will be stationed at the entrance to the Lillie and Hugh Roy Cullen Sculpture Garden, offering some of Houston's best "street food." There will even be limited seating inside the garden at the corner of Montrose Boulevard and Bissonnet Street.

Mondays - Bare Bowls Kitchen (simple local farm fresh)
Tuesdays - Phamily Bites (Vietnamese)
Wednesdays - No Borders (Sylvia's street tacos)
The Waffle Bus (gourmet sweet and savory waffle creations)
Fridays - Ladybird (gourmet comfort food)
Saturdays - Bernie's Burger Bus (gourmet Black Angus burgers)
Sundays - The Rice Box (Chinese classics to go)

What's more, diners can obtain an MFAH Lunch + Look loyalty card at the counter of participating food trucks and at the museum's Cafe Express location. Guests who present the loyalty card, along with their lunch receipt from Cafe Express or the food truck, will get free, same-day general admission between noon and 2 p.m. Guests will receive a stamp for each visit and when 10 stamps are collected, the card-holder is eligible for a half-price membership to the MFAH.