Toulouse Café & Bar is one of those places you go when you're looking to elevate your brunch experience beyond migas and mimosas. 

It's not that you have to dress up to brunch at Toulouse, though you'll certainly encounter a more well-heeled crowd than other spots. But with its Parisian café vibe set in the tony River Oaks District development, this is a decidedly refined experience with cocktails and plates to match. 

To start, the perfectly pedestrian setting is something you seldom find in Houston. River Oaks District is perhaps the most upscale shopping and lifestyle center in the city, home to stores like Harry Winston, Cartier and Tom Ford. Toulouse occupies a central slice of the complex with a spacious patio overlooking a plaza-a great perch from which to people watch in good weather. Inside, the light-filled dining room features banquettes and French-style bistro tables that marry well with rich wood accents and bright tile floors. Everything here evokes a modern interpretation of a European dining experience, down to the waiters' uniforms.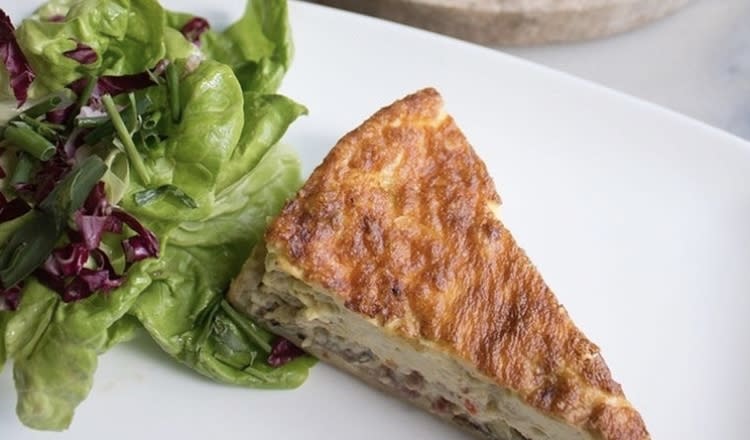 Begin with the Petite Gougeres, a classic French cheese pastry drizzled in truffle oil that is both decadent and lighter than expected. If you're a fan of mussels, the Moules Mariniere are a must have, prepared simply with garlic, white wine, butter and shallots, a delightful little sauce that you will want to sop up with the fresh French baguettes presented. 

Among the hors d'ouvres the Escargot Toulouse and the Crab Cake served with honey Dijon dipping sauce are favorites. The Oysters Rockefeller come piping hot, served in a traditional manner with spinach, pernod, cream and parmesan. On the lighter side, the Ahi Tuna Tower does not disappoint with its spicy tomato relish. 

For those seeking a sweeter version of brunch the Almond French Toast with crème aglaise is a sumptuous option. A personal must-have is the Duck Confit Hash-perfectly prepared duck melds with potato and egg and topped with poached eggs and hollandaise sauce. The Toulouse version of Eggs Florentine offers a fresh approach to the classic dish, incorporating lump crab and tomato for a dish that looks as good as it tastes. Among the heartier entrees, or Les Plats Principaux as the menu references, the Croque Madam with ham, gruyere and mornay as well as the Trout Almandine are among the more popular dishes. 

There are of course omelet and quiche options and the fresh baked pastries one might expect from a Parisian-inspired bistro. And what better place to experience a French 75 cocktail or a glass of rose'? The brunch drink menu changes periodically but count on a few staples like a boozy take on the Bloody Mary. 

Brunch is served 11 am to 3:30 pm.