One of the hottest spots to brunch these days has an old name but a very new look. 

Hungry's has been a staple in Rice Village for many years. But last year the Mediterranean-focused concept debuted a completely new, two-story restaurant, complete with a large patio, upstairs lounge and balcony overlooking the bustling shopping district. 

While the brunch menu is served both upstairs and downstairs in the main dining room, it's the 21-and-up upstairs patio that's the focus of the see-and-be-seen crowds flocking to Hungry's for mimosa flights and croissant French toast. Nestled within the canopy of stately old oak trees, the expansive patio is the ideal spot to while away a weekend afternoon with friends (brunch is served both Saturday and Sunday 11 am to 3 pm). 

When it comes to the menu, Hungry's marries some of its favorite Mediterranean plates with traditional brunch favorites. Take for instance the kebob plate with skewers of beef tenderloin and all-natural chicken served with basmati rice, grilled vegetables and pita, or the gyro plate packed with seasoned lamb and beef served with hand-cut fries. Another menu favorite is the Applewood smoke bacon burger topped with two, cage-free eggs. For something lighter, try the blue crab cakes topped with sweet, roasted corn and chipotle chili sauce or the Anaheim chile grilled chicken served with basmati rice and seasonal veggies.
 
One of my personal favorites is the eggs Florentine—two poached eggs and creamy spinach on fresh-baked ciabatta bread and topped with pico de gallo and served with herb-roasted potatoes and fresh fruit. Alternatively, the Greek omelet is delectable—filled with spinach, feta and tomatoes and served with roasted potatoes.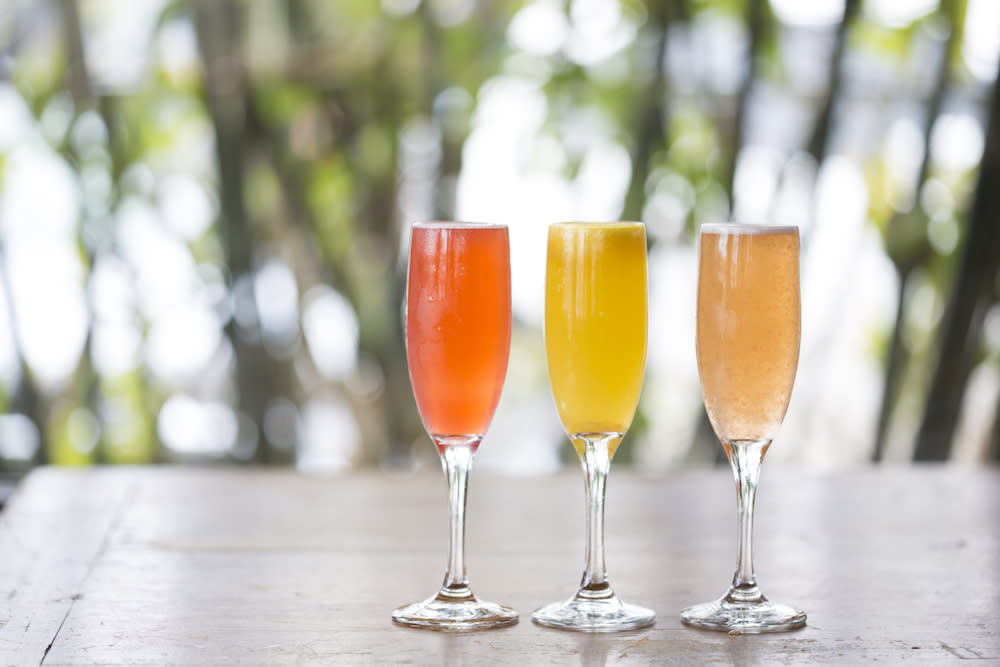 Now to the real star of brunch—the cocktails. Hungry's has seriously upped its bar game with its redesign. Choose from brunch drinks like the Froze made with French rose, strawberries and Carano Antica or the Ultimate Bloody Mary made with Ketel One and Hungry's signature mix. For mimosas, choose from traditional orange, strawberry, raspberry or grapefruit—or get a whole flight! 

With an expansive menu and incredible outdoor setting—Hungry's brunch on the balcony is crowd-ready.
Photos by Julie Soefer