Only a truly talented actor can take on roles as diverse as Tom in The Glass Menagerie and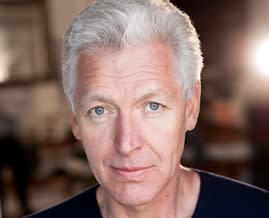 Bernadette in Priscilla Queen of the Desert. For critically acclaimed thespian Tony Sheldon, it's been more than four decades of stage performances in some of the most celebrated works ever put to paper.

After gaining international stardom in Priscilla, the Tony-nominated Australian actor is bringing his unique flair to Houston for Theater Under the Stars' staging of the Lerner & Loewe classic Camelot. Sheldon talked to us about the family business, President Kennedy and cross dressing night after night.

My Gay Houston: You grew up in a show business family. How did that influence your path?
Tony Sheldon: I've been performing since age seven. Both sets of grandparents were Vaudeville stars back in the 30s and 40s in Australia. My mother was a musical theater star in Australia and my dad started out as a dancer then became a television producer. Really, growing up I thought everyone was in show business. I didn't know people had other jobs.
It was the family business and my parents didn't discourage it. Their only concern was that I got a good education. They all told me how unreliable it was and they wanted me to have an alternative.

How did you know you wanted to act?
My great love was always musical theater. To see my parents doing Gypsy or Anything Goes, to see that electrifying experience in the theater, hearing that music-it triggered my imagination. The problem for me was that my family was extremely well-known in Australia and of course I didn't want to come off as the untalented one. When I started doing school plays, I realized I had a talent for dramatic acting. No one else had gone into that particular genre, so I thought "aha, this is the way to go!"

I concentrated on the dramatic classics, Chekhov, Eugene O'Neill. That's how I made my name in Australia.

You performed the part of Bernadette in Priscilla Queen of the Desert more than 1,700 times around the world, including on Broadway. How did that very unique role change you as an artist?
You know it came at an extraordinary time. I had just turned 50 when I did the first workshop for Priscilla in Australia. That's all it was supposed to be, but I got offered the role. I was very reluctant to do it at first because I didn't want to do another show in a frock. But I believed in the project and felt I could do it justice. The show took off. It took me outside Australia and exposed me to a wider audience. I had never been to Europe and really I got to see the world because of that role.

I ended up moving to New York with my partner of 33 years. It was a total life changer. I got nominated for every theater award and suddenly there I was on Broadway.

What role have you enjoyed the most?
They're all so different and they all bring different rewards. I loved playing the son in Long Day's Journey Into Night. I also loved playing John Barrymore in I Hate Hamlet. Anything that pushes me into areas that are unexpected. I'm really excited about Camelot because I had forgotten about the role of Pellinore. My mother used to say "they haven't written the show for you yet", which is to say there is something out there in the ether that isn't even on paper yet that's so perfect for you.

Camelot isn't as widely known as other musicals. Why did you want to do this particular production?
 I did grow up with the show. It was 1960 when I saw it in Australia; of course it had that incredible association with the White House at the time. John F. Kennedy used to play the music in the White House. He loved the dream of this fantasy place where everything is perfect and believed that in some ways it was achievable. The story of course is a timeless legend, very romantic. It has all of those associations for me from my childhood but I hadn't seen it on stage since I was five years old. That's what I'm looking forward to: the jousting, the beautiful Lerner and Loewe music, the big cast. It's all that epic, sweeping beauty. It's also my first American gig as a resident.

And you play Pellinore. What's his place in Camelot?
He's actually an old king from another kingdom who wanders into Camelot. He's been wandering in the woods for years and he suddenly remembers he's been in Camelot before where he met this boy named Wart. He finds out that Wart has grown up to be King Arthur. He's invited to stay in Camelot and be a sort of advisor to Arthur. Pellinore comes across as vague and silly and yet he's also wise.

What will gay audiences like about this show?
It is one of the great big shows, full of beautiful girls and handsome knights. And it's a very romantic story. I just think that anyone who loves musical theater will appreciate it. It's one of the great Broadway classics that should be seen, but doesn't come around often because of its huge scale.

Have you been to Houston before?
 I have not. I'm looking forward to exploring the city a bit while I'm there. I'll be completely at the mercy of the company!

Click here for more information and tickets for Camelot. And don't miss OUT@TUTS night Jan. 24th.