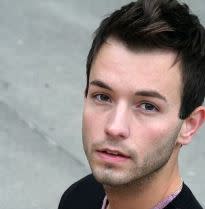 Logan Keslar
To hear Logan Keslar tell it, he's been preparing for Broadway nearly his whole life. Growing up in small town northeast of Houston, Keslar began singing and dancing in local stage productions when he was just a boy. Now, after performing in the revival of La Cage Aux Folles on Broadway, he's taking his role as a Cagelle on the road with the show's touring production. La Cage hits Houston's Theatre Under the Stars April 24.

So you're a homegrown guy.
Yep, I grew up in Liberty, born and raised. And then starting in elementary school, around 10 or 11, I began coming into Houston a lot for dance classes and theater classes.

What was the impetus for you getting involved in performing arts as a kid?
When I was six, my sister and a family friend started taking acrobatics classes. I was always singing and dancing and performing, so my mom asked me if I wanted to take the classes too. I remember when we had a recital at the end of the class, asking "when can I do that again?" I was always a performer as a kid, but being on stage that first time, I really loved it. And my parents were very supportive, always bringing me to classes and rehearsals and shows.

When did you really know that this was something you were going to do as a career?
Probably as a senior at HSPVA (High School for the Performing and Visual Arts). I was in the Dance Department and I got to audition for (famed performer and choreographer) Baayork Lee for the revival of A Chorus Line. She was impressed with my ability as a dancer and I got cast in that production at TUTS. It was just a perfect world for me.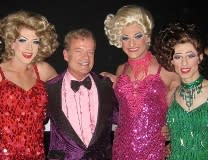 Keslar (left) with Kelsey Grammer and Cagelles

How did your experience in theater in Houston prepare you for New York?
I was lucky to have been exposed to such great talent performing in shows at Theatre Under the Stars as a kid. I got to work with dancers from New York all the time and I learned how the business worked from them. I think that's why Broadway never seemed like this unattainable thing to me. I knew if I worked at it, I could do it. And then when I went to New York, I had these great connections already who were willing to help me. So Houston definitely helped prepare me for that.

You've played parts ranging from a gang member in West Side Story to a showgirl in La Cage. What roles are you most at home in?
Dancing is something that is so much a part of me. It's who I am. There's just something about my body that lends itself to being able to do these demanding dance numbers. I feel lucky that I've been able to do both sides of the spectrum-from a fighting gang member in West Side to dancing in heels.

How long does your nightly transformation into (the Cagelle) Bitelle take?
I usually get to the theater about two hours before the show. It takes about 45 minutes to an hour to do my makeup and I have to shave right before. Plus, I like to give myself enough time to really warm up.

What's been your favorite show to perform?
I loved doing A Chorus Line--it was my favorite show growing up. Another standout for me was actually at HSPVA, I got to play Will Rogers in Will Rogers Follies.

Who have you most enjoyed working with on stage?
Douglas Hodge who won the Tony for playing Albin in La Cage on Broadway. It was the most brilliant performance I've ever seen. Night after night he perfectly read the audience and had them in the palm of his hand. I also got to work with Harvey Fierstein, which was amazing. He's so smart and such a giving performer. And now I'm working with George Hamilton, who's just incredibly authentic, and so funny. George is such a gentleman, sort of the last of that breed of big studio movie stars.

How intense was it performing night after night on Broadway?
New York can be a pressure cooker. You never know who might be in the audience. We had Barbra Streisand, Sarah Jessica Parker, Anna Wintour-every day it's someone. You always have to be at the top of your game, taking care of your body.

This isn't your first show in Houston since you left. Is it ever weird performing in your hometown?
It's actually really incredible. I get to perform for friends and family who can't come see me when I'm performing elsewhere. It's like a homecoming. I think it helps you appreciate your success, and keeps you grounded at the same time.

What's your favorite place to be in H-Town?
For me it's the Montrose area and Downtown. Montrose is where I sort of grew up in the arts, being at HSPVA. I like going to grab a bite at places like Baba Yega's and Niko Niko's. And then Downtown in the Theater District where I got to perform. It's a great feeling. Of course I like going to JRs and South Beach whenever I'm in town too. I remember sneaking into South Beach when I was 16. It's nice to go back without worrying about getting kicked out!

Final question: TexMex or BBQ?
TexMex, 100 percent! I always look for it wherever I am, but it never lives up to what I can get at home.


La Cage Aux Folles opens at the Hobby Center April 27 and runs through May 6. Click here to get tickets.