The 2012 Houston Livestock Show and Rodeo closed out its three-week run on Sunday breaking the event's all-time paid attendance record with nearly 1.3 million patrons.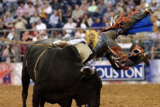 Rodeo Houston

Roughly 1.28 million folks used paid tickets to access this year's rodeo, up from 1.25 in 2011. Overall attendance was nearly 2.26 million, the second-largest crowd in rodeo history. Meanwhile, the March 17 rodeo, headlined by country singer Brad Paisely, broke the single-day attendance record with 153,159 patrons.
Five Rodeo Houston performances landed in the list of the Show's top 20 paid Rodeo attendance records, with three taking the top spots:
first: March 15, 2012 - Jason Aldean - 74,901
second: March 11, 2012 - Duelo and La Original Banda El Limon - 74,588 
third: March 14, 2012 - The Band Perry - 74,241 
eighth: March 17, 2012 - Brad Paisley - 73,757 
11th: March 12, 2012 - Zac Brown Band - 73,374

Other figures from this year's event:

Rodeo Houston committed more than $2 million to its contestants in 2012.
The show hosted 2,474 registered international guests from 65 countries, including large delegations from Mexico, Guatemala, Honduras and Venezuela. Several guests came from as far away as Thailand and Pakistan. 
More than 300,000 visitors utilized the Show's Rodeo Express and METRO Park & Ride locations. 
In the Capital One Bank AGVENTURE Birthing Center, 74 piglets, 26 lambs and 21 calves were born during the show. In the Poultry Exhibit, more than 960 chicks hatched.
Food could be also found at nearly all areas within Reliant Park. Over the course of the three-week event, visitors consumed:
23,000 cinnamon rolls
9,000 pounds of shrimp 
8,000 pizzas 
6,000 orders of fried cookie dough 
6,300 orders of catfish 
3,000 orders of chicken fried meatballs 
50,000 pounds of potatoes 
146,000 barbecue sandwiches 
30,000 tamales