Taylor B.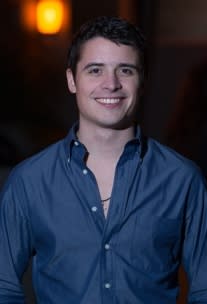 Birthplace: North Carolina - or "North of I-10" as they say here.

Occupation: Geologist - I map the seafloor so we lay pipeline in the smartest spot.

Tex-Mex or BBQ? Ooh - tough one. Tex-Mex here is in a league of its own, however, nothing beats BBQ brisket and ribs with dirty rice and potato salad that's been smoking all afternoon and just falls apart in your mouth. Alright - brisket it is.

Favorite annual event? The Rodeo. BBQ Cookoff, cowboys, awesome concerts, and a carnival every night. Did I mention Cowboys?

What's your favorite LGBT event? Bunnies on the Bayou. Nothing like spending a beautiful Easter Sunday afternoon with 3,000 of your closest future ex-boyfriends in their best pastels drinking for charity to make you feel like spring in Houston is here.

Houston in one word is: Rowdy.

What's a Houston must-see? If you've never been to Texas, head to Neon Boots. Nothing like two men two-stepping with their big ol' 10-gallon hats to make you see how we're unique down here.

What makes Houston unique as a city in your opinion? Houston has a big personality I've never seen elsewhere - rowdy, hardworking, fun. I feel like there's a great positive energy here that I haven't felt in any other city.

A Houston must-have? A duck and a smoked buffalo hot dog from the Moon Tower Inn. So tasty.

What's on your Houston bucket-list that you haven't done yet? Taken a 2-stepping course and buying cowboy boots!

Houstonian you admire most? Annise Parker - I think she's shepherded Houston through an awesome and exciting part of its history and has been a pragmatic leader. It makes me proud that Texas' greatest city elected a lesbian mayor three times in a row! Yeehaw!

Favorite place to grab a bite? Right now, Coltivare. Awesome rustic Italian. But the best thing about Houston is that answer changes every month. There's always something new to try.

Best brunch in town? Does the fruit in your drink at the Eagle on Sundays count as brunch?

Favorite Happy Hour? Sushi Happy Hour at Uchi - it's really just incredible.

Favorite museum, space or attraction? The new Buffalo Bayou Park. It's close to everything you want in Montrose and the Heights and is really a beautiful new renovation in town.