Megan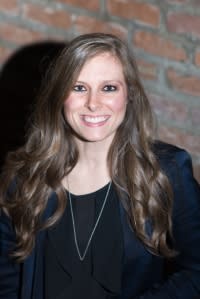 Birthplace: Great Houston. 

Occupation: Control Systems Engineering and Sales in the energy industry.

Tex-Mex or BBQ? Definitely Tex-Mex! After any trip or vacation that's out of Texas, it's the first thing I want when I get back home.

Favorite annual event? Toss between the MS150 and the Rodeo.

What's your favorite LGBT event? Lambda NextGen Houston.

Houston in one word is: Cosmic! Cosmic for the city's ties to space; the physical size of the city; the worldly population; the endless possibilities; and finally for the universal pride Houstonians have for our city.

What's a Houston must-see? Anything in the Museum District or the USS Texas Battleship at the San Jacinto Battleground State Historic Site. How many cities have an actual battleship that you can go aboard and explore!

What makes Houston unique as a city in your opinion? The diversity of the people that live here. The Energy and Medical industries bring all kinds of people from around the world to research, work, play and live in this great city.

A Houston must-have? Besides A/C and some sort of hair de-frizzer; I would say a love for entertainment. Houston has it all, sports, arts and music, history and science, food, and the outdoors! 

What's on your Houston bucket-list that you haven't done yet? I have yet to attend the Bayou City Art Festival. I always seem to be out of town when it happens, maybe this year I'll get to check that event off of my list. I recently noticed that an indoor skydiving place opened not too long ago in the memorial area, it's a new attraction, but it's definitely something I want to check out.

What would you say is Houston's best hidden gem? Our bayous! There are so many bike/ running trails along Houston's bayous. They provide a whole new way to explore Houston whether you're in the city or in the suburbs.

Houstonian you admire most? Sherri Luehr, CEO and Chief Motivator of Parachute Consulting. Besides the customary admirable characteristics like being an entrepreneur, AHA Gulf Coast Chairman, and philanthropist, I most admire her ability to make a purposeful and powerful impact with everything that she does. She has probably trained CPR to half of Houston and in effect saved just as many lives.

Favorite place to grab a bite? Houston's off of Kirby, Cedar Creek or Wakefield CrowBar.

Best brunch in town? Baba Yega café in Montrose.

Favorite Happy Hour? Wherever my friends are!

Favorite museum, space or attraction? I seriously love all of Houston's museums and theaters. As a kid I loved the children's museum and Space Center Houston. During the holidays I love seeing ballet performances at the Wortham Theater and plays at the Alley Theater. The newly renovated Buffalo Bayou Park, Wakefield CrowBar, and Free Press Summer Fest are some of my outdoor favorite places and events.