Jaime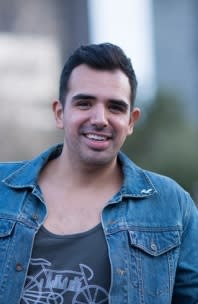 Birthplace: Kingsville, Tx. Google it.

Occupation: Service industry manager and local t-shirt designer/small business owner.

Tex-Mex or BBQ? Tex-Mex, duh!

Favorite annual event? Bunnies on the Bayou because it makes for a great Sunday fun day holiday with friends.

What's your favorite LGBT event? Houston Pride, from the start to finish there is always something and it's great to see the community come together.

Houston in one word is: Fusion.

What's a Houston must-see? The Menil Collection is a must see not only because of it amazing art work but its awesome location and great lawn.

What makes Houston unique as a city in your opinion? Its diversity and growing population. It is truly the city with no limits.

A Houston must-have? Air conditioning, it can be rather steamy in the summer.

What's on your Houston bucket-list that you haven't done yet? I really want to kayak the Bayou. The area along Allen Park to Downtown is awesome.

What would you say is Houston's best hidden gem?  Sparkle's Hamburger Spot because it's awesome and has great Kool-Aid, plus it's located in East Downtown an area with many other hidden gems. Shhhhh!!!

Houstonian that you admire most? Lynn Wyatt because she is a legendary lady with a young spirit and impeccable style.

Favorite place to grab a bite? Andes Cafe.

Best brunch in town? Royal Oak Bar and Grill.

Favorite Happy Hour? Cuchara, best drinks and bites.

Favorite museum or attraction? Dan Flavin installation which is part of the Menil Collection. It's a place that always lifts my spirit and a great place to think.