Drew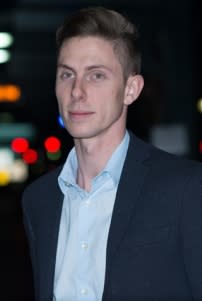 Birthplace: Wichita, KS.

Occupation: Non-profit development.

Tex-Mex or BBQ? Tex-Mex.

Favorite annual event? Houston Livestock Show and Rodeo. The rodeo brings great energy, a ton of fun and fried food-what's not to like? 

What's your favorite LGBT event? Bunnies on the Bayou. It's Houston's largest outdoor party, and all proceeds from the event benefit local LGBT-friendly organizations. 

Houston in one word is: Yours. This city offers countless opportunities to find your passion, get involved and leave your mark. If you can dream it, Houston can help you do it. 

What's a Houston must-see? The Orange Show, the late Jeff McKissack's mesmerizing monument to citrus. Check it out and you'll see there is nothing else in the world quite like it.

What makes Houston unique as a city in your opinion? The skyline. Love it or hate it, Houston's lack of zoning makes for one of the most interesting and beautiful skylines in the country. 

A Houston must-have? Must have? A car. Should have? A bike. Houston has more than 100 miles of trails to explore. 

What's on your Houston bucket-list, something you haven't done yet? Chicken and waffles from the Breakfast Klub. I hear great things about it. 

What would you say is Houston's best hidden gem?  Bethel Church Park in Freedman's Town was built from the site of church ruined by a fire in 2005. The church played an important role for Houston's post-Civil War African American community, and the park showcases the church's history. It's definitely worth a visit. 

Houstonian you admire most? Beyoncé! When she's not releasing chart-topping surprise albums, Mrs. Carter helps provide meals, job training, HIV screening and case management for homeless Houstonians through her support of Knowles-Temenos Place Apartments. 

Favorite place to grab a bite? I'm into variety and fried things, so love the Houston Food Truck Park at Leeland and St. Emmanuel. Whatever I'm craving, I can find it there.

Best brunch in town? Baba Yega. There's a reason there's always a wait. 

Favorite Happy Hour? Cedar Creek. Nothing beats an evening on the patio. 

Favorite museum or attraction? The Houston Zoo. I am a sucker for red pandas.