Dennis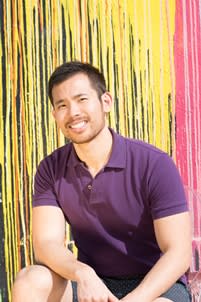 Birthplace: I was born in Connecticut but grew up in Chicago. Give me some Italian beef or deep-dish pizza any day.

Occupation: PhD student in public health and project director of a large research study focused on young gay and bisexual men's sexual health.

Tex-Mex or BBQ? Tex-Mex for bulking season, BBQ when cutting carbs. Seriously, though, when I moved away from Houston for a couple years, I craved nothing more than good Tex-Mex.

Favorite annual event? I love people watching, and nothing brings together Houstonians from all walks of life from all across the city more than the Houston Rodeo. For me, the Rodeo is symbolic of the city; it celebrates a rich cultural history with the diversity of modern Houston. Plus, it's the one time of the year I get fried cookie dough and BBQ parfaits.

What's your favorite LGBT event? Bunnies on the Bayou: great party, great weather (hopefully), great theme, great cause.

Houston in one word is: Thriving. 

What's a Houston must-see? Though Houston isn't known for many traditional tourist attractions, NASA's Space Center Houston is the crown jewel in this arena. It's a must-see for any science nerd, modern history buff, engineer, amateur stargazer, and young family who visits. Plan in advance for the travel time, though.

What makes Houston unique as a city in your opinion? Houston has a lot going on: Not only are we one of the largest cities and strongest economies in the U.S., we are the nation's most diverse city, which is reflected by our acclaimed food and drink scene. We have chart-topping museums, theaters, and parks as well as the largest medical center and largest rodeo in the world. Despite all these things, the city is humble, unassuming, and low-key, blending the richness of urban culture with the comforts of suburban living. It's a phenomenal place to live, work, and play for young professionals and families alike.

A Houston must-have? Most visitors will get to the Tex-Mex and the BBQ, but you shouldn't leave Houston without sampling some of the best Vietnamese food this side of the Pacific, like a banh mi from Les Givral's in Midtown.

What's on your Houston bucket-list that you haven't done yet? I still need to catch the sunset light sequence at the James Turrell Twilight Epiphany Skyspace on the Rice University campus.

What would you say is Houston's best hidden gem? I want to say the whole city is itself a diamond in the rough. It's not uncommon for outsiders to have a stereotypical and oftentimes negative image of Houston, and most people I've met, including myself, come here for work or school, not because it's a hot destination (figuratively, at least). But once you start uncovering what Houston has to offer, whether through exploration or local guides, you fall in love with it. There is something for every interest, need, and desire here; you may just need to do a little digging first.

Favorite place to grab a bite? Local Foods (sandwiches and salads) and Pondicheri (modern Indian street food) currently top my list for nice but casual dining.

Best brunch in town? I like to get a big group together for dim sum in Chinatown (e.g., Fung's Kitchen), but if you're looking for something less adventurous, Backstreet Café in River Oaks is one of my personal favorites in terms of food and ambiance.

Favorite Happy Hour? Benjy's, in either Rice Village or Upper Washington, has excellent appetizers and drinks for a great price. I'm a bit of a night owl, so I also frequent Aka Sushi and The Hay Merchant for Reverse Happy Hour.

Favorite museum, space or attraction? The Menil Collection is a nice assemblage of modern and historical artwork housed in a gorgeous space, surrounded by a beautiful park, and tucked into a quiet Montrose neighborhood. I've heard it perfectly described as "an oasis", good for a quick visit or a lazy Sunday, and best of all, it's always free. My other top picks are the Theater District, Discovery Green, the Houston Museum of Natural Science, and the Asia Society Texas Center.