Christina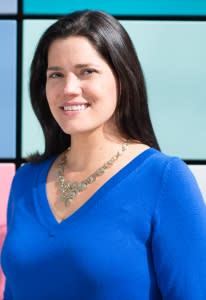 Birthplace: Houston, Texas!

Occupation: CEO of First Person LLC. We provide strategy and smart leadership to socially responsible organizations.

Tex-Mex or BBQ? Both. Hello.

Favorite annual event? Victory Fund Champagne Brunch.

What's your favorite LGBT event? Rainbow on the Green.

Houston in one word is: Home.

What's a Houston must-see? A free show at Miller Outdoor Theater on a perfect spring evening.

What makes Houston unique as a city in your opinion? Houstonians love our neighbors regardless of who they are and we are proud of our diversity. We love our city and are truly hospitable to visitors who we hope will visit us again and again!

A Houston must-have? A local Houstonian to show you around!

What's on your Houston bucket-list, that you haven't done yet? I've never been to a Texans game, so if anyone has some extra tickets, I'm your girl!

What would you say is Houston's best hidden gem? All of our gorgeous green space is a gem hidden in plain sight. Visitors are surprised to see all of our beautiful parks, public golf courses and natural waterways. Plus the beach is only a hop, skip and a jump down 45 South!

Houstonian that you admire most? Tie: Beyonce and Annise Parker.

Favorite place to grab a bite? Treebeards.

Best brunch in town? Beavers.

Favorite Happy Hour? La Griglia.

Favorite museum or attraction? The Menil Collection and the Rothko Chapel. Make sure you have a glass of wine and cheeseboard at Bistro Menil while you are there!