Ross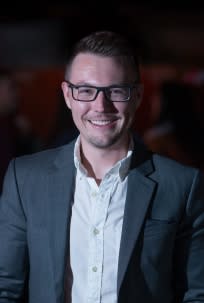 Birthplace: Soso, Mississippi (yes, it's a real place).

Occupation: Energy analyst.

Tex-Mex or BBQ? Tex-Mex all the way. Queso > BBQ sauce all day, every day, and always.

What's your favorite LGBT event? Bunnies on the Bayou in Houston. It's Sunday Funday on another level.

Houston in one word is: Expansive.

What's a Houston must-see? Miller Outdoor Theatre. It's such a cool place to get together with friends and enjoy a show or performance outside.

What makes Houston unique as a city in your opinion? By far, the diversity. Houston isn't the Texas an outsider might imagine. It's an incredibly cosmopolitan city full of people from all over the world. From food to events, and just work life...you can encounter any culture you can imagine.

A Houston must-have? A favorite breakfast taco spot. Villa Arcos in the East End is my choice. Everybody has one! Oh, and a friend with a pool.

What's on your Houston bucket-list that you haven't done yet? I've actually never been to the Houston Museum of Natural Science. I always hear about how awesome it is, but I've never made it.

What would you say is Houston's best hidden gem? Why? As a big car guy, I'm going to say MSR Houston. It's outside Houston proper in Angleton, but it's a great place to go race go-karts that aren't of the mini-golf sort. When I take people there they are always like, "This place is great!"

Houstonian that you admire most? Without a doubt, AJ Foyt. His IndyCar team is still based out of Waller. He did a lot of great things over his career. He is the only driver to ever win the Indianapolis 500, Daytona 500, and 24 Hours of Le Mans.

Favorite place to grab a bite? Jenni's Noodle House...the Infernal Chicken Curry is my favorite! Plus, they're typically rocking some awesome 80's music inside.

Best brunch in town? Liberty Kitchen in the Heights. The food there is great no matter when you eat it.

Favorite museum, space or attraction? I really like the Holocaust Museum. I enjoy WWII history, and it's a very poignant space where Houston families that were affected by the Holocaust contributed their stories and items to create it. Getting that local input in the museum's creation really brings the reach of WWII into perspective.