Joey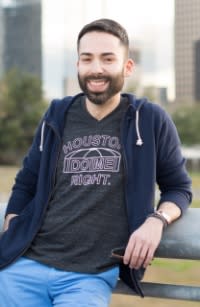 Birthplace: Kingsville, Texas.

Occupation: Pharmacist/owner of a local Houston apparel company.

Tex-Mex or BBQ? Tex-Mex by far.

Favorite annual event? U.S. Men's Clay Court Championships.

What's your favorite LGBT event? Lambda NextGen monthly socials for young professionals.

Houston in one word is: Limitless.

What's a Houston must-see? Buffalo Bayou. Allen Parkway is currently undergoing a huge renovation in an effort to "beautify" the bayou. Every time I visit Buffalo Bayou it reminds me of the forward direction Houston is moving in and why I've come to love this city so much.

What makes Houston unique as a city in your opinion? The culture. Houston has become the most culturally diverse city in the United States. From food to the arts, you don't have to drive far to experience something different.

A Houston must-have? A Houston inspired shirt from Joey & Jaime.

What's on your Houston bucket-list, something you haven't done yet? Kayaking in the bayou. 

What would you say is Houston's best hidden gem?  Boheme. From craft cocktails to truffle fries, they have a great variety of drinks and food. The vibe in their outdoor space is always very relaxing and inviting. 

Houstonian you admire most? David Peck. Peck has really made a name for himself in the fashion industry and manufactures his clothing locally. 

Favorite place to grab a bite? Riva's Italian Restaurant.

Best brunch in town? Harry's on Fairview has quickly become my favorite brunch place. 

Favorite Happy Hour? Royal Oak. 

Favorite museum or attraction? Houston Museum of Natural Science. I am a biochemistry major so anything science-related interests me.