Author: Andrea Slaydon
Don't want to do all the cooking this Thanksgiving? Many Houston restaurants are ready to lend a hand with Thanksgiving to-go menus ranging from complete meal packages to appealing sides and desserts. Because, hey, you deserve to rest a little, too. Read on for our favorite "Houston Style" Thanksgiving to-go menus and make sure to order fast; some places have deadlines as early as Nov. 14.
MAKE IT EASY
Houston's New York-style deli Kenny & Ziggy's offers a variety of appetizers including franks-in-a-blanket and mini potato and onion knishes, sides, salads and meats for Thanksgiving Day. But if you truly want to make it easy, their complete Thanksgiving meal is a good choice. For $275, get a 20 pound whole turkey, wild mushroom and chestnut stuffing, gravy, apple pie and cranberry-pineapple-nut relish, plus two sides. The meal feeds 10-12 people.
Deadline: Place your order by November 15th and pick-up at the Post Oak location only on November 21.
Get as much or as little help as you need at Revival Market. The Heights restaurant's Thanksgiving menu includes a variety of meats (from good old fashioned turkey to duck), sides, desserts and "cooking aides," such as housemade stocks and pie shells to help out in the cooking process. The menu also includes a selection of breads to accompany your dinner.
Deadline: Order by phone or email by November 16.
Fans of Rebecca Masson's Fluff Bake Bar can enjoy some of her sweet confections in the comfort of their home this Thanksgiving. Masson is offering chocolate cream, dutch apple, pecan, pumpkin and mountain rose (a type of heirloom apple) pies.
Deadline: Order online by Sunday, Nov. 20 for pick-up on Nov. 22 or 23. If you miss the deadline, Masson will have some extra pies ready for last-minute pick-up.
Take care of the turkey and Backstreet Cafe covers the rest with their Thanksgiving menu of soups, sides and desserts. From cauliflower chowder to savory bread pudding with spinach, pine nuts and mushrooms, the restaurant makes customers' favorite items for them to take home for the big day.
Deadline: Order by November 14th with orders ready for pickup from November 19 - 21 between 11 a.m. to 9 p.m. To place your order, email jesus@backstreetcafe.net or call 713-521-2239.
Good with the sides but just don't want the stress of cooking the bird? Goode Co. BBQ will send you home with a moist, slow-smoked turkey that captures the distinct flavors of the Lone Star State. The 10-pound turkeys cost $75 and feeds from 8 to 10 people. (You can also order the popular Brazos Bottom Pecan Pie for pickup.)
Deadline: Place orders before November 15th for Turkey and Holiday meal. Pick-up November 20 & 21 at designated Goode Co Location. Pies do not need to be ordered in advance.
Ever heard of turducken? Herbert's Specialty Meats carries a deboned turkey stuffed with a boneless duck and chicken. The layers of poultry are separated by cornbread dressing and pork stuffing.
Deadline: All orders must be placed the week before the shipment and shipments go out on Mondays and Tuesdays. You can always stop by one of their locations and buy a frozen Turducken. (Just note, it takes three days to thaw.)
"You relax, we'll cook!" says the historic, award-winning Rainbow Lodge's holiday to-go menu. We can get on board with that idea. Meant to cover not only Thanksgiving but Christmas and New Year's, the menu offers a wide range of choices. From turkey to a whole roasted suckling pig and what they call "lodge classics," which include the restaurant's buffalo and black bean chili, and smoked duck gumbo.
Deadline: Order 24 hours in advance.
Killen's Barbecue is offering specials for Thanksgiving. The 14-16 pound smoked turkeys are $70 and must be picked up the Wednesday before Thanksgiving. A Whole Brisket is the perfect moist centerpiece for your Texas Thanksgiving and costs $95. Email eat@killensbarbecue.com to place orders.
Deadline: Order by November 14th and pick-up is Wednesday before Thanksgiving.
The family feast dinner at Caracol is Chef Hugo's versions of traditional classics. The pineapple & habanero whole spiral ham comes with coal-roasted sweet potato, jalapeño cornbread, charred brussels sprouts, sweet cranberry & spicy jalapeño relish, roasted red bliss potatoes & rajas, tamal azteca tortilla casserole. You also get a choice of dessert. The Family Feast feeds 6-8 people and is $225.
Deadline: Family Feast dinner or a la carte items should be ordered by November 14 for pickup from November 19 to November 21 from 11 a.m. to 9 p.m. Order form can be found online at www.caracol.net and should be emailed to antonio@caracol.net, or call 713-662-9996.
George Ranch Historical Park's Thanksgiving old-fashioned cobblers have built a loyal following and you'll have to try one to understand why. Prepared by in-house chef Nick Castelberg, and available in peach, apple, blueberry and blackberry flavors, the cobblers are frozen so all you have to do is bake them at home.
Deadline: Order online or by phone at 281-343-0218 by November 15. You can pick up your cobbler on November 17, 20 or 21 at the park. A half-tray that feeds 8-10 people is $25.
GO UNCONVENTIONAL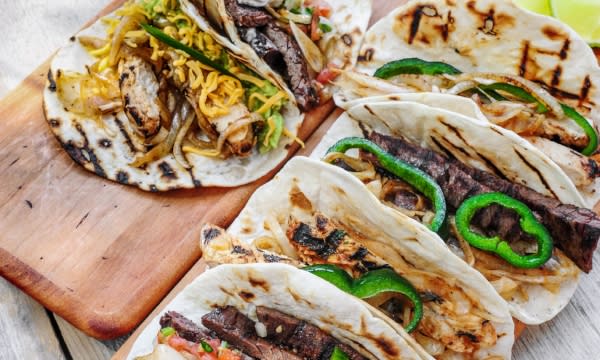 Consider skipping the T-bird and throw a Thanksgiving fiesta with fajitas, Jose's Dip and taquitos complete with all of the fixings from Molina's. (They can even supply the margaritas!) Ready to eat fajita packs and more are available for pickup and at-home delivery. 
Join Bosscat Kitchen & Libations to celebrate Thanksgiving Day from 12-7 p.m. where co-owner John Reed, executive chef Peter Petro, bar director Matt Sharp and managing partner Tai Nguyen will be on hand to serve guests while celebrating with their own families throughout the day. Bosscat's special Thanksgiving menu includes heaping helpings of two proteins with salad, family-style sides and dessert for $45 ($55 for three proteins; $15 for kids 12 and under), plus half-off all bottles of wine and $5 Texas draft beers all day. Reservations encouraged; walk-ins welcome; no dress code.