Andrew Lloyd Webber's timeless classic Phantom of the Opera has a whole new look in the production by producer Cameron Makintosh and director Laurence Connor currently touring the country. Phantom hits Houston this week and it's more over-the-top than ever before, incorporating new cutting-edge technology and lighting design as well as new direction that makes the play darker and more tense. Of course the classic Webber score remains with classic songs like "All I ask of You" and "Masquerade."

Broadway veteran actor Edward Staudenmayer, who has performed in shows such as Beauty and the Beast, The Scarlet Pimpernel and Monty Python's Spamalot, has taken on the role of Monsieur Andre in this Phantom cast. Staudenmayer talked to us about what it's like to work on one of the most successful musicals ever as well as his Houston musical street cred.
My Gay Houston: How many times have you performed this role in Phantom?
Edward Staudenmeyer: We just hit the 800 mark on number of performances. And I've only had a few days off since I started with the tour two years ago, so probably somewhere around there. Its' a great gig and a fun production to be part of. I love the other actors and the interaction and it's great to be in a big stinking hit, I gotta tell you.
MGH: Have you performed in Houston before?
ES: Yes, I actually did Wonderland, the Alice in Wonderland musical that was developed at Alley Theatre under Greg Boyd. I was the White Rabbit and of course that show moved on to run on Broadway. I really enjoyed my time in Houston.
MGH: Monsieur Andre is a great supporting character in the original Phantom, but maybe a little one-dimensional. How has he changed in this adaptation?
ES: In this production, characters like Andre and Monsieur Firmin are much more fleshed out. This version is very gritty and the characters really get in each others' faces. It's intense, there's a lot of arguing and back and forth. We learn that Andre is more of an aristocrat, though one with not much money. He teams up with Firmin who is from a lower class but has more money. They are at each others' throats a lot and (actor) David Benoit and I have a lot of fun doing it.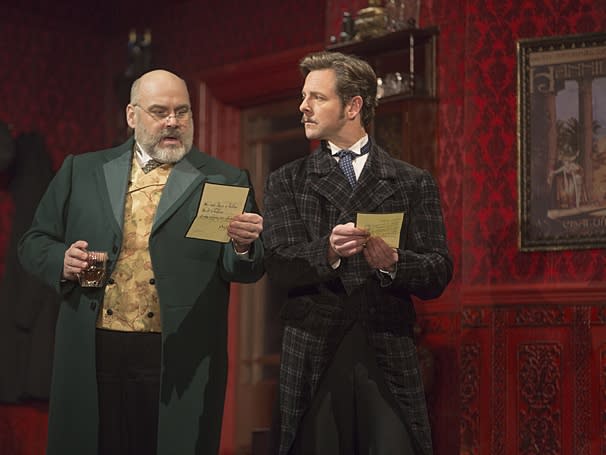 Staudenmayer (right) plays opposite David Benoit in Phantom
 
MGH: How else is this new rendition from Mackintosh and Connor different from the original?
ES: It's darker. It's bloodier. The staging is able to make use of technology that simply wasn't available when Phantom debuted 30 years ago. In many ways, the original was staged sort of like a silent movie, highly stylized. This is much heavier, much deeper scenes. I think you get more into the characters than you could before.
MGH: Despite the changes, some things you just don't mess with when it comes to the longest running show on Broadway.
ES: Exactly. I think what resonates most with people about this show is first and foremost the music. When people hear that music, it's just infectious and it draws up so many memories for a lot of people. You feel (Andrew) Lloyd Webber's score. Also it's a grandiose work and people love that, they love the scale of it. It's operatic in many ways of course, and so it's opera for musical theater folks. I can't tell you how many people come up to me and say "this was the first musical I saw." People have a lot of emotions around Phantom.

MGH: What's the one role you haven't played yet that you really want to do in your career?
ES: I think every baritone says Sweeney Todd. It's a great piece and I would love to play that role. I'd also love to play Harold Hill in The Music Man.
MGH: You've long been involved in Forbidden Broadway, touring the country with that group. Talk about that a bit.
ES: I've done Forbidden Broadway on and off for 20 years. I started as an understudy in LA and then when I moved to New York they offered me a role. They are my bread and butter. You know it's really like Saturday Night Live for Broadway, spoofing current or classic shows and the big stars. It's so much fun. I've been doing Phantom for a while now but I miss Forbidden Broadway, I haven't done it in four or five years. So it would be great to a weekend off and do it sometime.

Phantom of the Opera runs through Nov. 29 at the Hobby Center. Click here for tickets and info.