Tucked in a triangle formed by I-45, Telephone Road and Hobby Airport is a quaint neighborhood held in a time warp. The mid-century modern homes of Glenbrook Valley offer a slice of 1950s Americana. This is the largest historic district in Houston and the first outside the 610 Loop. And while Glenbrook Valley has maintained its character through the decades, today it's experiencing a renaissance as millennials and others looking for inexpensive homes close to the city center rediscover this piece of the past. Not long ago, Houstonia magazine even named Glenbrook Valley a "where to live now" neighborhood.

Many of those homebuyers are members of the LGBT community, drawn to the unique character of Glenbrook Valley. One of them is Ross Bynum, a young energy industry professional with a penchant for mid-century mod style who bought his home in 2015. The house on Cayton Street, dubbed the Tex-o-Rama, was featured in the Greater Houston Builder's Association's 1956 Parade of Homes. This fall, the Tex-o-Rama will be part of a six-home Tour of Homes in Glenbrook Valley, proceeds from which will be used by the civic club to purchase new neighborhood markers and make other improvements.

We spoke with Bynum about his neighborhood, maintaining a look and the upcoming tourset for early October.

Talk a bit about the history of Glenbrook Valley. What's its importance as a Houston neighborhood?  

Glenbrook Valley is the largest locally designated post-World War II historic district in the US, which is something many in Houston don't realize.  When it was first established in the 1950's it was widely considered the "River Oaks of the East" and was home to prominent families at the time and many Italian-American families.
How would you describe the architecture of the neighborhood?  

The architecture of the neighborhood is what really sets it apart.  It's a diverse collection of the sought-after Mid-Century Mod, ranch homes of the time, and many "mid-century modest" homes.  The home tour will showcase a collection of these styles.  Some are close to 100% original while others have been updated for the 21st century but still retain the mid-century aesthetic. The neighborhood isn't a grouping of copy and paste designs, they really run the gamut of 1950's and 60's designs.
Without zoning, Houston isn't known for a particular type of architecture, or for maintaining it when it does exist in a given neighborhood. Do you feel like Glenbrook has been able to retain its aesthetic?  

Glenbrook has done an excellent job of leveraging its status as a historic district to retain the cohesive neighborhood aesthetic.  That's why people move here.  Glenbrook will not become a sea of townhouses and McMansions.  I think this is extremely important as the neighborhood has taken additional steps past simply being a historic district to make sure that it will not become a hodge-podge of townhouses, McMansions, and original homes.  That only raises the value and the significance of the homes and Glenbrook in comparison with other neighborhoods of similar age in Houston.
How do you think Glenbrook is changing, whether it's the residents who choose to live there, the architecture etc.?  

Glenbrook is gaining momentum as a place that has a great location, great architecture, and is affordable.  I've been a resident just over a year and have already witnessed quite a few young families and young professionals moving in on my street alone.  The neighborhood offers well-built homes with lots of style that won't break the bank. Those that do move here have an appreciation for the style and architecture as that's the main attraction.  Additionally, 4 of the 6 homes on the tour are owned by members of the LGBT community.  Kids play in the street, kids walk to school, neighbors chat in their yards with one another.  Plus, it's an eclectic mix of long-time residents, artists, business professionals, attorneys, teachers, consultants…it's a strong reflection of Houston as a whole.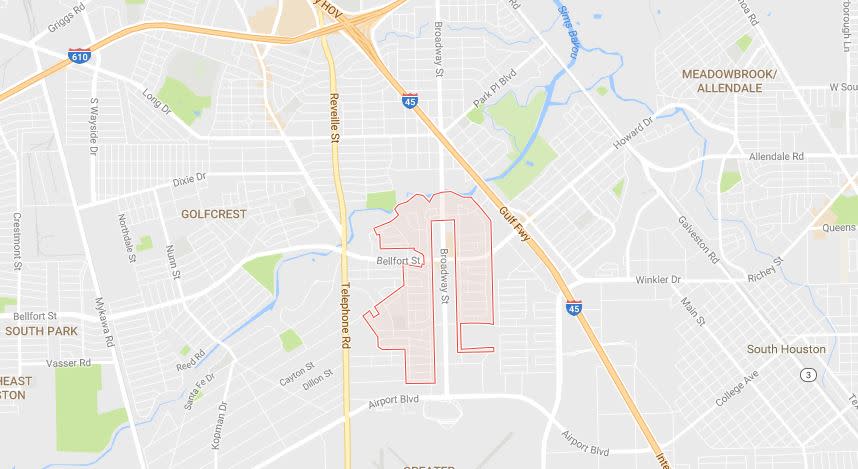 Map shows Glenbrook Valley's location between I-45 South and Hobby Airport
Talk about what makes these particular homes included in the tour unique.  

The homes on Cayton Street, which includes my home, were featured in the 1956 Better Homes and Gardens Magazine Parade of Homes so this tour represents their 60th anniversary.  These 2 homes showcase the "mid-century modest" style and have been undergoing updates over the past year since being rescued.  Speaking for myself, my home is still a work-in-progress, but how many people can say their house was in a magazine and its official name since 1956 has been the Tex-O-Rama?  The home on Santa Elena is a sprawling Mid-Century mod that features original furniture, original features, and a built-in bar dubbed the "Kit Kat Lounge".  On the tour, you'll see why.  The Colgate home is a stunning home that was in complete disrepair, gutted, and is simply amazing.  Lakewind is another large mod that has a wonderful view of Simms Bayou that features original details and is a stunner.  On Glen Dell is a ranch-style home that was updated for today.  The owners did a great  job using the original design and some awkward former additions, to turn the home into the perfect party home.
Why do you think a number of LGBT Houston residents have decided to settle down in GBV?  

Two things the LGBT community can recognize are style and a great investment, which makes GBV perfect.  One of the "pioneers" of the neighborhood said she "prayed for gays" after buying, knowing that once the LGBT community caught wind of this hidden gem, they'd move in and really start helping turn the neighborhood around.  Also, the neighbors here are phenomenal and more fun than you can imagine.  These mid-century homes were designed for entertaining so that's what we do!  Many buzz-words thrown around in homes today like "great for entertaining" and "open concept" were really established in these mid-century homes.  Most of the homes here are perfect for those that love to have company, and we know gays love to entertain.  
The tour is supposed to raise funds for the civic club. What will that money be used for?

The funds will go towards new neighborhood markers.  If you travel along Broadway to and from Hobby Airport you see one of the signs that mark entry into the neighborhood that the Civic Club is responsible for.  As more people visit Houston and travel through Hobby,  and to compliment the neighborhoods historic status, the neighborhood wants to put its best foot forward as we are what greets visitors when they travel to Houston.  Plus, we want to take advantage of the repaving and re-landscaping of Broadway as well as Hobby itself to create a cohesive and updated look for the neighborhood.  Continuing this momentum is key and we hope it leads to more improvements along the Broadway corridor long-term.
What do you hope the future holds for the neighborhood? What's a win for the civic club? 

The sky is the limit for Glenbrook.  We really hope to continue to attract great people to the neighborhood, especially from the LGBT community, and return it to its former glory.  For the civic club, raising the funds to kickoff the construction and updating of the neighborhood markers is the goal.  GBV plans to have these yearly moving forward showcasing different homes, so the efforts will continue to raise money and raise the profile of the historic district.

The home tour is scheduled for October 1 and 2. Click here for more details.