On a sultry October evening in Montrose, cars pack the parking lot and line the streets around F Bar. Inside, bartenders sling drinks in a rush to keep up with a crowd that's been building all night. It's not unusual for this place to be busy on a Tuesday. After all, Tuesdays are Drag Live--one of the club's signature weekly events that's helped it garner a steady clientele. But this isn't any old Tuesday. On this night, Latrice Royale, one of the more popular contestants on the hit Logo show RuPaul's Drag Race, is performing for a standing-room-only audience.

Royale and her ilk are part of a new wave of drag that's sweeping the country and certainly bringing new life to the art form in Houston. Before F Bar opened in early 2011, drag in the Bayou City had been relegated to a few occasional shows at off-the-beaten-path bars. Entertainment at the more popular clubs consisted mostly of karaoke and go-go boys.

With a popular host in Tye Blue and an upscale look--complete with a stage, professional lighting and sound--F Bar quickly gained a reputation for high quality shows. It brought a level of unexpected sophistication to Houston's gay audience, and they ate it up. It didn't take long for owner Irwin Palchick to recognize the demand and create two nights of drag (the Legendary Ladies show is each Sunday). F Bar's Dreamgirls were born, with names like Violet S'Arbleu and Kara Dion. And national talent was mixed in for special occasions, many from drag race fame such as Raja and Frenchie.

Fast forward a few months and drag has new attitude in Houston. Beyond weekly shows at F Bar, there's Illusionati every Friday at the recently-renovated Guava Lamp. Guava's sister bar Vue is bringing in talent like Cher-impersonator Chad Michaels for performances. And it's drag that everyone wants as entertainment for their special events, from LGBT fundraisers to high-end soirées.

"People are really excited to see drag make a comeback in Houston," says Charo Beans DaBarge, one of F Bar's Dreamgirls who has been performing in drag for more than three years. "I remember going to Kofi's Sunday show [at South Beach] and it was fabulous. But from the time that show closed and F Bar opened, there wasn't really anything exciting going on in the drag scene. I think people realized that drag is fun to watch again and definitely something to look forward to week after week."

And come they do. Few gay bars can claim the kind of weeknight crowds that F Bar draws for its Tuesday show. It's created a new sense of community and brought people back out to the bars for real entertainment--not just the stand-and-model approach.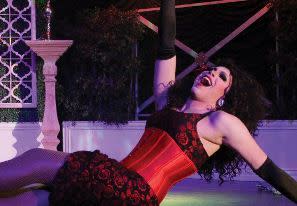 DaBarge certainly gives credit to Drag Race for helping spur the movement and put drag back in the spotlight. RuPaul herself has called the show "Carol Burnett for the next generation" and professed the goal is to bring renewed attention to the art form. But DaBarge says that can be a double-edged sword.

"I think to some extent RuPaul's Drag Race has made the LGBT community think that it's easy to do drag and that anybody can do it," says DaBarge. "Drag is hard work, expensive and uncomfortable. Nowadays, these 'girls' think they can put on a cheap wig, some cheap Harwin clothes, CoverGirl, no pads or hosiery or pride in what they do, and call themselves a drag queen. Drag is so much more, and unfortunately Drag Race has kind of cheapened it."

Undoubtedly it's the spectacle that people come to see. Far beyond the type of performers DaBarge describes, she and her colleagues put on well-choreographed stage shows, complete with a lot of flash and sass. The bar has been raised and none of the Houston fans want to see drag lose its edge again.

DaBarge says it's important that audiences understand what goes into the performances. Quality drag is expensive, she says, and performers often don't make the money back on their investment. "Don't get me wrong, most of us absolutely love what we do and have made it our jobs," she says. "But people come to see a free show-so don't be shy to tip the entertainers!"

Drag Live!: Tuesdays at 11 pm at F Bar. Hosted by Blake Hayes
Legendary Ladies: Sundays at 11 pm at F Bar. Hosted by Lady Shamu
Illusionati: Fridays at 11 pm at Guava Lamp.